4 Tips on Choosing and Decorating Bookshelves
Bringing books into your home are an easy way of bringing life into your space. With all their different coloured spines, they inject pops of colour into any room. Plus, of course, they're enjoyable to actually read. To make them look the part, however, you need the right bookshelves – and the perfect bookcase can be a receptacle for so much more than just books. This is a place you can deposit your favourite decorative items, framed pictures of family and friends, your magazine collection, your favourite dinnerware, that antique glassware, plants, candles… and so on. Here's how to pick the perfect bookcase for your home.
1. Size matters
… in particular, in relation to how deep your bookshelves are. They need to be deep enough to accommodate standard hardback books, paperbacks and possibly even textbooks and coffee table books, preferably with room to spare. Look for bookshelves that are around 12 inches (30cm) deep. At a push, you can drop this to 9 inches (23cm) but no less.
As for height, this depends on whether you're going for small bookshelves (30 to 42 inches – or 76 to 107cm) or tall ones (up to 84 inches – 213cm). Your highest shelf should sit no higher than 72 to 78 inches – 183 to 198cm; otherwise it will be difficult for you to reach your books (unless you have a ladder on hand).
If you go for small bookshelves, you can use the top of your bookcase as space for decorative items, framed pictures, candles and more. Plus you have wall space above your shelves where you place a mirror, or an artwork or several artworks. If you go for a tall bookcase, your top surface will be out of reach, and your shelves will take up all of one wall.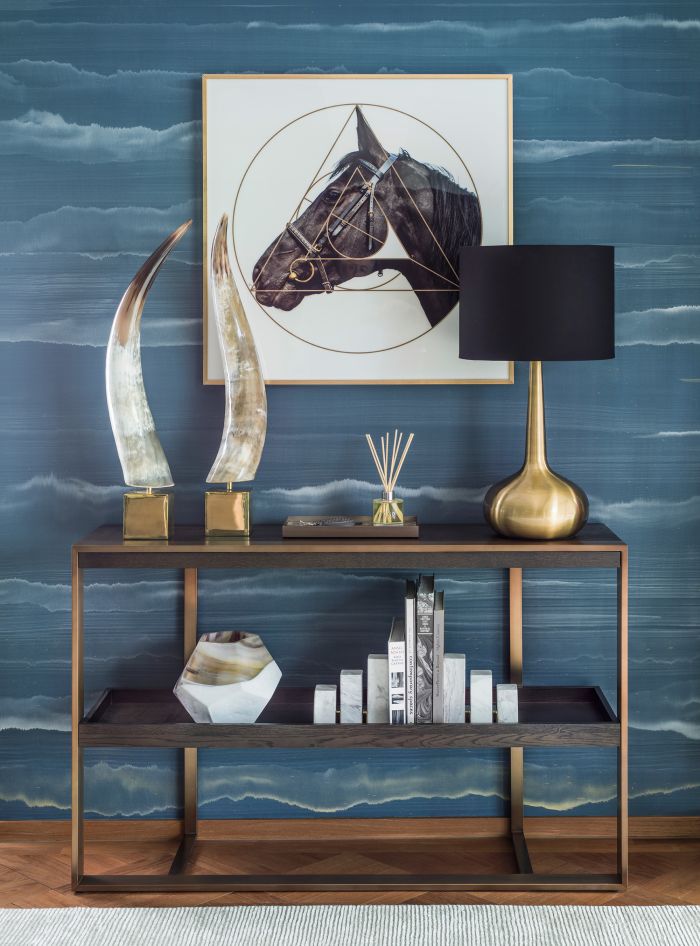 2. Choosing the right type of bookshelf
What look do you want to go for? What's happening in the rest of your home style-wise? If you have a lot going on visually, you may want to stick to a simple bookcase with clean lines, like the Kennedy Bookcase (which comes with two handy drawers at the bottom), or the Landon Etagere. These are chic without drawing too much attention, allowing your books and your ornaments to shine.
If you want a bookshelf that's a showstopper in itself, go for the Juana Bookcase, which combines a steel frame with reclaimed veneer elements, or the Peyton Bookcase, with solid oak and a reclaimed Peroba frame.
If you're short on square footage, ladder bookshelves like the Versailles Bookcase are a good option. With their open format, they create a sense of space, while bringing style to any room. And if you don't want to show off your books, you can hide them within a cabinet with doors, like the Memphis Cabinet.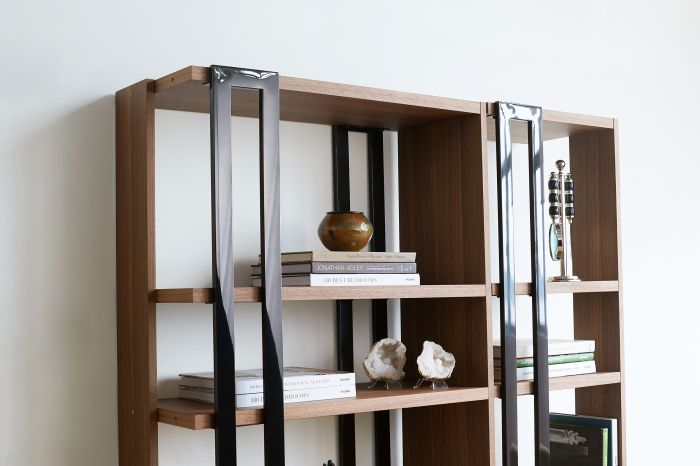 3. How to decorate your bookshelves
Now that you've chosen your bookshelves and where you want to position them in your home, it's time to set the scene by decorating your bookcase.
You may want to fill some shelves with books and place ornaments on others. Start by filling some of the shelves with larger items such as vases, lanterns and plants in pots, or the Nox Globe. Your central shelves – the focal point of your bookshelves – will look best with decorative elements in them rather than books. You could even put an artwork in one of these centre shelves, paired with a couple of small ornaments. You can add to this by placing smaller artworks in some of the side shelves, at different heights to the main, central artwork.
Next, make sure you have books in all columns of your bookshelves. You can stack them on top of each other on a shelf – biggest books at the bottom, i.e. your coffee table books, and then stack smaller books on top so that the smallest, lightest books sit at the top – or you can line them up next to each other. The latter works particularly well if you have books of a similar height (paperbacks, for example). If you want to get really detailed about it, you can colour code your book lineup, putting books of similar or contrasting colours together. Whichever way you go, be idiosyncratic about your stacks: on some shelves, have books on top of each other, stacked horizontally, and in others, position them next to each other, and align them left in some shelves, right in some others.
The finishing touches are your smaller items: elements like bookends – the marble Gecko Bookends or the Miami Bookends will do nicely – along with the Aurum Sand Timer and the Tiger Stone Trinket Bowl. Uneven numbers work best together visually (three, five or seven different items per shelf, for example). You can also place your smaller items on top of book stacks, next to them… play around, have some fun and see what looks best to you.
The main thing to remember here is to create visual interest by mixing and matching shapes, forms, books, and elements of different heights, weights, shapes and colours. Ideally, your bookshelves should feel effortlessly curated but not contrived.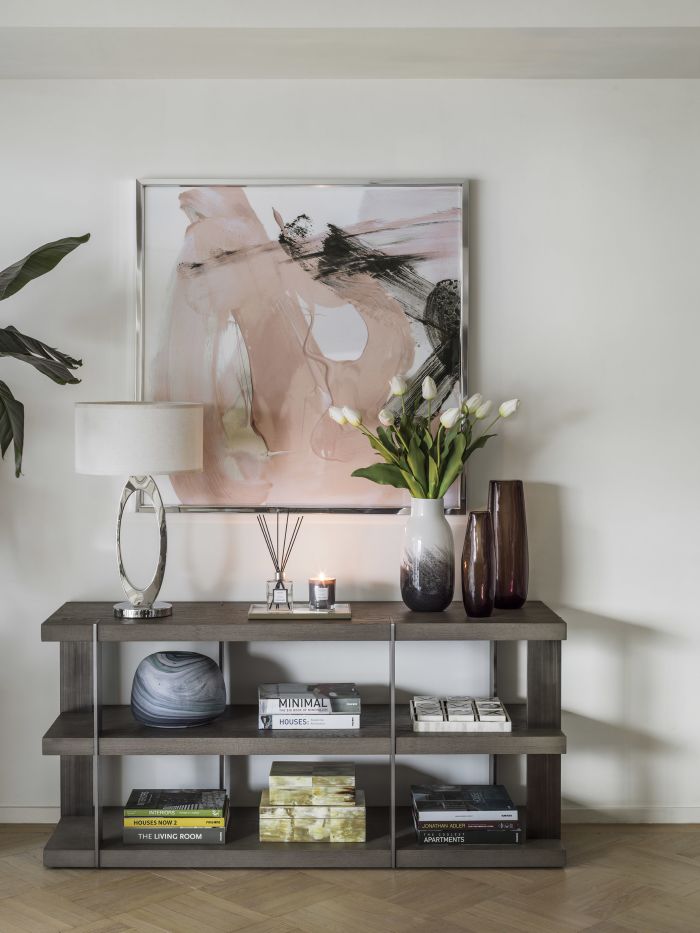 4. And don't forget…
… to make sure your bookshelves are in a room that has good air circulation, and that's relatively dry (50 to 60% humidity ideally). If your room is too humid, and if there's too little airflow, it can lead to mould and damage to your books.