Beautiful Living
Feb 10, 2019

Small Living Room Sofa Ideas
The living room is the heart of your home, offering a place to unwind at the end of the day as well as a place to entertain when company is over. When your apartment has a small living room it can feel difficult to build a functional space. Fortunately, all hope is not lost. There are many tips and tricks to get a lot of enjoyment out of a little room.
Choosing the Right Sofa
The most important part of laying out your small living room is finding the right sofa. A sofa is the workhorse of your living room design, offering both a place to lay out alone as well as seating for more than one. While a smaller space limits options, there's no shortage of unique directions to take your living room design.
Keep It Small and Simple
The most obvious solution to designing a small living room is to scale down the furniture in it accordingly. With your sofa this means choosing a compact model, focusing on comfort over quantity. Choose a two-seater couch that's a delight to lie or sit in and you'll still save plenty of space around it to add additional seats, a coffee table or other accents.
Bigger May Be Better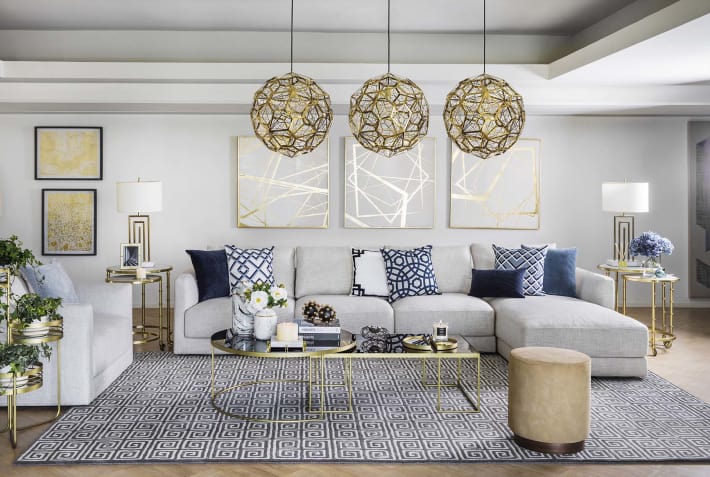 If smaller is not for you, then take things to the other extreme. While purchasing large furniture for a small space may seem counterintuitive, it's highly effective when done properly. Rather than an assortment of several smaller pieces of furniture, instead commit to just one or two larger pieces that allow you to still seat multiple people, while freeing up some floor space.
The Corner is Your Friend
If your living room has squared off walls, then a corner couch is an excellent way to maximise your room's utility. The L-shaped design creates seating for a larger group than a standard couch, and fits efficiently along two walls. Whether you prefer a simple sofa with standard seating on both sides, or a couch combined with a chaise lounge, the corner couch gets the job done.
Lose the Back to Make it Bigger
For a small living room which connects to an adjacent room in an open floor plan, consider opting for a backless sofa. By not having a solid back to block sight lines, backless sofas make your smaller living space feel larger and open so that you don't feel so cramped.
More Uses Means More Usage
Multifunctional furniture is an incredible asset when laying out a small living room. Daybeds are a great way to give your room a sofa, but also a spare bed when you have company spending the night. When choosing a mattress for your daybed, be sure to choose one capable of handling the rigours of use as a couch as well as a bed.
Low Key Design
Tricking the eye is a big part of designing for small spaces. When it comes to choosing the right sofa, a simple way to make your room feel larger is to select a lower sofa. By lowering the outline of your sofa, it feels like it's taking up less space in the room, allowing your small living room to feel larger as a result.
Decorating and Accenting Your Sofa Selection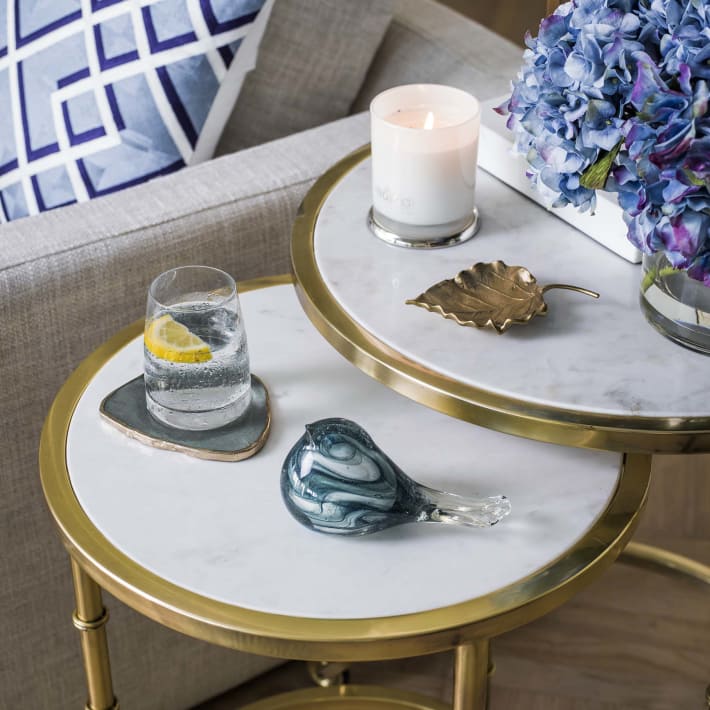 Finding the right sofa is only part of the task when laying out your small living room. Once you have your sofa picked out, it's time to build around it in a way which gets the most from your sofa and your space. The right decisions in accenting your sofa can make the difference between a living room which feels much larger than it is and a living room which leaves you disappointed and is underutilised as a result.
Mirrors, Mirrors on the Walls
One trick to making a little room seem bigger is to add mirrors to the wall. It seems silly to think we get tricked by something as simple as seeing the room reflected, but it works. If you add mirrors to the walls near your sofa, you and your guests will feel like you're in a larger space than you are.
Have a Look Outside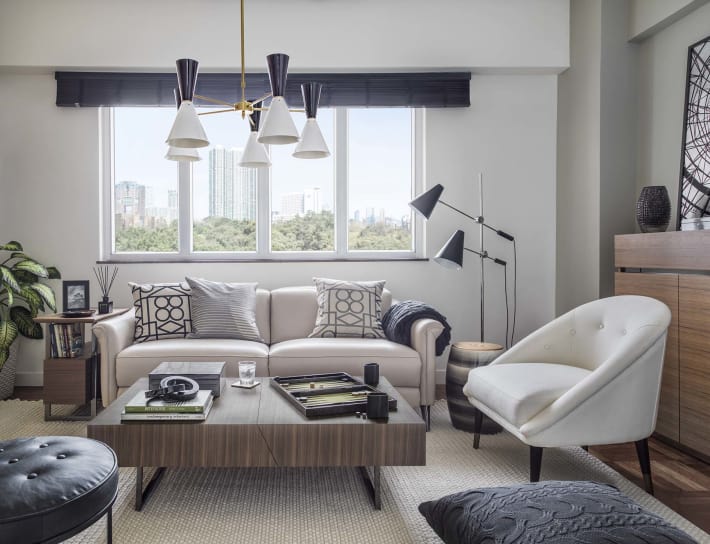 Just as a mirror makes things bigger by not stopping your eye-line, so too do windows. If you're drafting the floorplan of your home, or have the ability to add windows to your existing living room, they're a great way to make your room feel larger and less claustrophobic.
Seek Out More Storage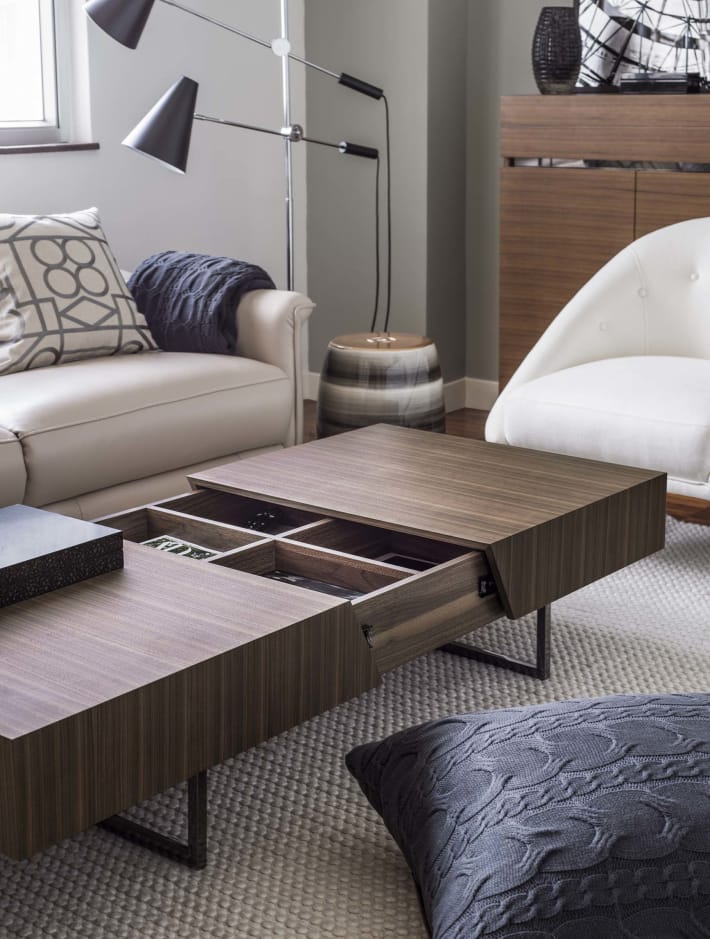 When space is at a premium, it's important to get every little bit of utility out of it. Just as a daybed creates a simple way to get a sofa and a guest bed at the same time, look for other multi use pieces of furniture, like those with built-in or hidden storage. A coffee table which doubles as a trunk or an end table with shelves between the legs let you maximise the space they take up, allowing your living room to do more.
Free Your Walls
When laying out your new sofa in a small living room, it's tempting to simply put it as close to the wall as possible to maximise the space in front of it. You may be surprised to discover that compressing your layout a little makes the room feel bigger, however. When you "float" your furniture in off the walls a bit, creating space to move behind them, you make the room more easily navigable and less cluttered-feeling.
Cosy isn't Cramped
A common misconception for beginner room designers is that having your furniture closer together makes things less comfortable by default. While it's important not to put your sofa so close to the table or a chair that it's hard to get in and out of your seats, as long as there is walking room, positioning furniture closer together can create a cohesive and cosy living room to enjoy.
Ditch the Coffee Table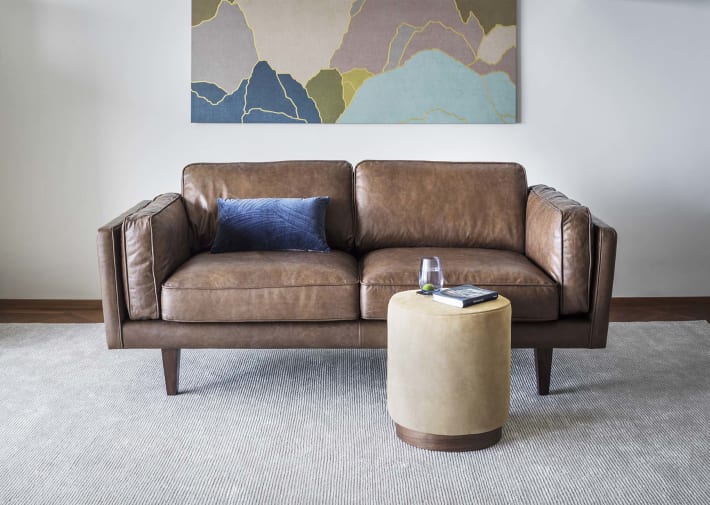 When space is at a premium, sometimes you just can't afford to commit a section of it to a dedicated coffee table. Instead, swap it out for one or two ottomans with flatter tops. When you need a place to rest a dining tray or your computer, they get the job done, but also double as foot rests, turning your seated couch into a chaise.
Rest it on a Rug
When placing your sofa in a room with hardwood floors, a rug is essential for protecting the floors from scratching when the sofa shifts. Fortunately, choosing a rug is another great opportunity to make your small living room bigger. Choose a large rug for under your sofa which also extends to hold your table and additional seating, and you'll get protection while projecting the image of a larger living room.
---
Shopping around for different furniture that meets all these needs can be hectic. To get most of your furniture in one place, visit one of our our 8 Indigo Living stores in Hong Kong or check out our online catalogue. If you would prefer to have professionals assess your living room and design the best small living room furniture arrangement for your space, then please also take a look at our design services. We look forward to hearing from you.