What to Look for in a Sofa
The sofa is one of the most important items in the home. It's the focal point of the living room, and it often serves several purposes. For some people, it's the centre of social activity – a place where they congregate with friends and family. For others, it's where they relax at the end of the day; they gravitate here to watch TV, to read, to have a nap, to meditate, or even to eat meals. For other people, it's both: it's a source of interaction, and a place to unwind in.
As such a hub of activity, the sofa is one of those items you use almost every day, so it needs to fit your space, and your life, perfectly. This is something Lingyan Wong, furniture buyer at Indigo Living, knows instinctively after some 12 years in the business of buying items for the home.
"Our customers consider various factors when they're buying a sofa," she says. "Price, look, feel, maintenance and durability are some of the key elements they consider."
Here, Wong answers some of the common questions people ask when they're buying a new couch for their home.
L-shaped or straight?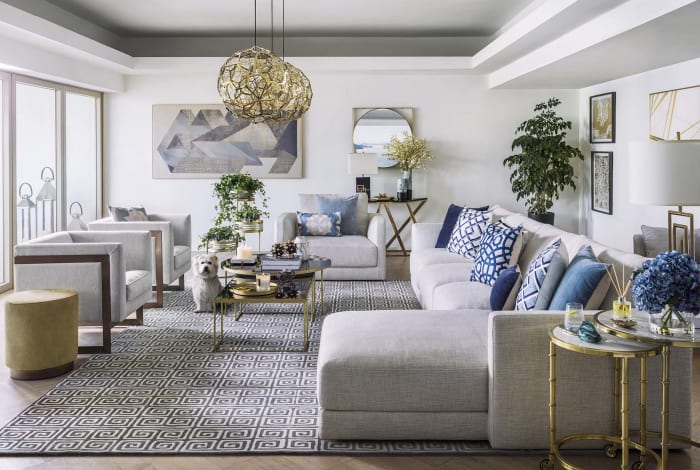 Sofas actually come in various forms. There's your standard, linear sofa, which comes in two- and three-seater versions. Sectionals, meanwhile, encompass L-shaped sofas, U-shaped ones, and chaise longues.
Whether you go for a sectional sofa or a linear one "depends on the size of your space," she says and also how you want your space to feel. "Do you want to go for a formal look, or an informal one?" she asks. "An L-shaped couch is more informal, it feels more relaxed."
If you prefer a more formal, elegant look – and you have the space for it – why not consider two sofas in leather or velvet facing each other across a coffee table?
What are the benefits of buying a leather sofa?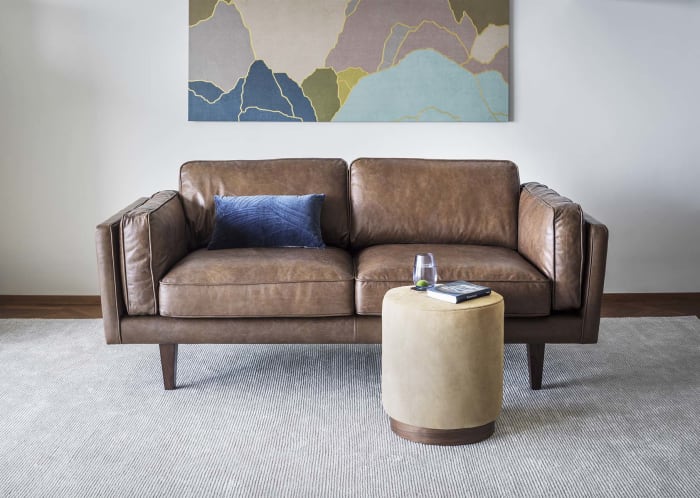 Leather, says Wong, "is often more durable than fabric, and it lasts longer. It's also easier to clean than fabric. Usually all you need to do is give it a quick wipe and dust it. Lighter leathers can be less resistant to stains, but even then, they're easier to clean than a pale fabric would be."
Leather sofas also feel firmer, retaining their shape for longer than fabric ones, she says.
For those with allergies, leather is also a better choice. "Leather tends to be hypoallergenic, as it doesn't gather hair and dust the way fabric does," she says.
Leather is a particularly good choice if you want your sitting room to feel more formal. "It's easier to make a leather sofa the focal point of your living room," says Wong.
What do I need to be aware of if I buy a leather sofa?
"Leather is a living material," says Wong. What this means is that it will likely come with imperfections: gradations in the colour across the sofa, and marks that are a natural component of the material. These will also change as you use your leather sofa – and for many, the patina leather takes on over time is part of its appeal.
Leather's living nature also means it's susceptible to temperature changes in the environment. "Some people say their leather sofas get really warm to sit on during summer," says Wong, who recommends placing a leather sofa away from direct sunlight so it absorbs less heat.
And, if price is a concern for you, buying a leather sofa may be off the table. "Leather is more expensive than fabric," says Wong. "Because of the price issue, you rarely see large, modular sofas or sofa beds in leather."
So if you have a large living room to fill, and if you need one that offers flexibility so you can move parts of it around your living room, then you may find yourself limited to buying a fabric sofa. Which has its advantages, too….
What are the merits of a fabric sofa?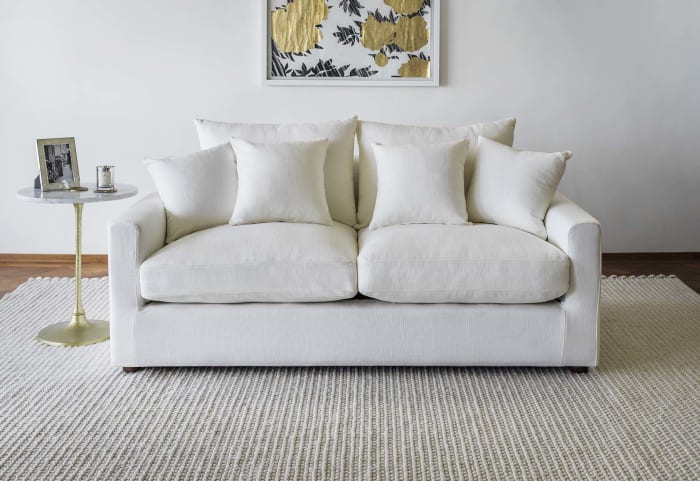 A big advantage of buying a fabric sofa is that it will cost you less than a leather one. And fabric gives you plenty of freedom when it comes to size, shape and style.
"You have a lot more choice," says Wong: you can choose between cotton, linen, silk or velvet (which look elegant but are less durable than other fabrics), wool (strong but costly), synthetic microfibre (a stain-resistant blend of the likes of acrylic, nylon and polyester). Fabric sofas also give you the option to have a patterned fabric sofa or to go with block colour.
Wong recommends purchasing a sofa in a neutral or low-key hue, though: "It's like a blank canvas; it's easier to accessorise, and to change your accessories, if you go for a neutral colour," says Wong. "If you choose a sofa in a vibrant colour, then your living room design has to work around that colour."
As well as offering choice, fabric sofas also have the added advantage of "creating an inviting atmosphere," says Wong. There's a sense of comfort that comes with a fabric sofa – more so, often, than with a leather sofa, which tends to look more sophisticated.
What do I need to consider if I buy a fabric sofa?
Bear in mind that fabric couches are less durable than leather ones. "The colour of your fabric will fade over time, and this will happen even faster if your sofa sits in direct sunlight," says Wong.
Fabric can also be high maintenance – more so than leather. "You need to clean fabric sofas more often than leather ones," says Wong. "Fabric sofas are also more likely to absorb pet fur, hair, dirt, dust, and even odours."
When choosing fabric, it's worth spending the money on something high quality, says Wong. "Low-quality fabrics are difficult to clean and they stain easily."
For a real, deep clean, seek out professional service providers who can steam clean.
What else?
Whether you opt for a leather or a fabric sofa, allow for 40 to 60cm around your sofa for items like a side table or a floor lamp – as well as people movement through your living room.
Found your dream sofa? Before you buy, make sure it fits in your space – and in the common areas of your building if you live in an apartment block. Says Wong, "If you're buying a large sofa – particularly important if you're buying a three-seater – make sure it fits inside your lift, and through your corridors and your front door."
See more Sofa