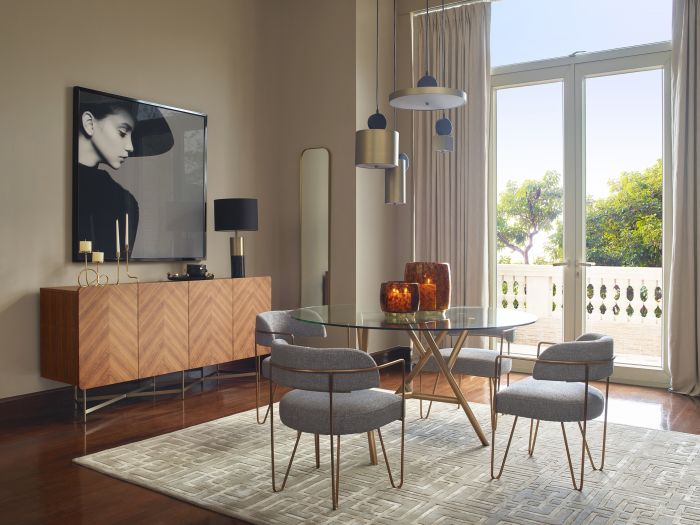 Why we like area rugs and how to use them at home
Wall-to-wall carpeting is no longer 'in' these days; now, it's all about showing some floor, while dressing things up with area rugs. The benefits of an area rug are numerous. For one, they will add a layer of comfort, both to your look and underfoot (especially helpful on cold nights!). Secondly, they help define different areas of your space, drawing attention to, for example, your dining table and dining chairs, or your sofa and coffee table. They also act as an anchor in these spaces, because sometimes bare floors can leave furniture looking a bit floaty. In addition, they double as sound control, muffling the sound of feet moving across a room, as well as absorbing music and TV sounds so they don't carry beyond your room.
They're also fun: they're another way of bringing colour, pattern and style into your space – like art for your floors. Of course, if you have beautiful floors, you may not want to cover them up with rugs, and that's fine too. But the majority of Hong Kong homes have flooring that's nothing to write home about, and this is where area rugs can add value.
Despite all the advantages of using an area rug, they're especially challenging to choose. How big or small do you go? How much room do you allow around them? How much pattern can you go for? We answer these questions and more below.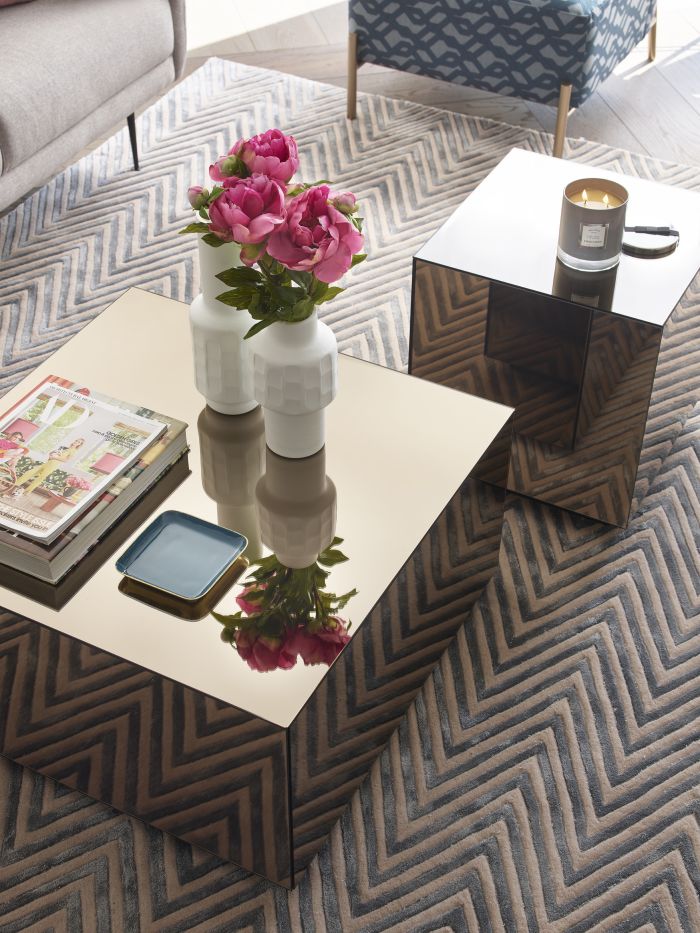 In the living room
There are several ways to use an area rug in your living room. First, you can pick a rug that's big enough for all your furniture sits on top of the rug, so that your carpet neatly encompasses all your furniture. In this case, measure that section of your room within which your living room furniture sits, and then add an inch or two at least. Err on the larger size with your area rug – a rug that's too small will end up looking lost in the middle of your room.
While bigger is often better with area rugs, you do need to allow a bit of space around the edges of your rug – so don't choose a rug that completely fills the floor of your living room. Allow for anywhere between 20 and 60cm (8 and 24 inches) of space on each side of your rug. Ideally, you should have an equal amount of floor space on all sides.
If you love a particular rug that's on the small side, it's okay too. You can either try layering (more on that below) or you can just stick with one rug, as long as the front legs of your furniture sit within the confines of the rug. So your sofa's front legs should sit on the rug, and, ideally, your whole coffee table and all four legs of any armchairs. The 'rule' here is that smaller furniture items should sit fully on your area rug.
Another option is to go for two rugs in this space: you can use these to delineate different areas of your room (say, if you have a reading corner or a bar area that's separate from your lounge area, or if you have a particularly big living room with two seating areas).
Have some fun with your living room rug, too: go bold with colour and/or pattern, especially if your furniture is relatively neutral. The Xian Rug is a striking option, as are the Evolve Navy Rug and the Ramond Rug (pictured); the Vaugham Rug, on the other hand, brings in pattern while keeping things understated, and it's a good option if you already have some pattern in your space.
In the dining room
Dining room rugs look best if they surround your whole dining set, so that even when your dining room chairs are pulled out, they still sit on top of your rug. Aim for an additional 2 feet (60cm) of rug around your dining table. Again, your rug can extend out towards the walls of the room, but allow for 20 to 60cm of space around it.
This is a high-traffic, high-spill area, so pick a rug that's going to stand up to food and red wine stains, plus lots of foot movement. Go for a rug that has a low-pile or a flat weave, and ideally one that's made of natural materials, as these are less likely to absorb stains (this is not the place to introduce a thick, fluffy rug or a luxurious fur rug. Save that for your bedroom or living room). Note, however, that while natural materials are great as they're easier to clean than synthetic ones, nubby weaves like sisal and jute can be really challenging to clean. Food can easily get stuck in the grooves, and stains are hard to remove, too.
In terms of shape, if you have a round dining room table, pick a round rug to go around it, or go for a square rug for a playful look. You could even go for a square rug that extends far beyond the edges of your round dining set. For a rectangular table, a rectangular rug will look best.
We recommend the Jacana Silver Rug, or the Pasadena Natural Rug.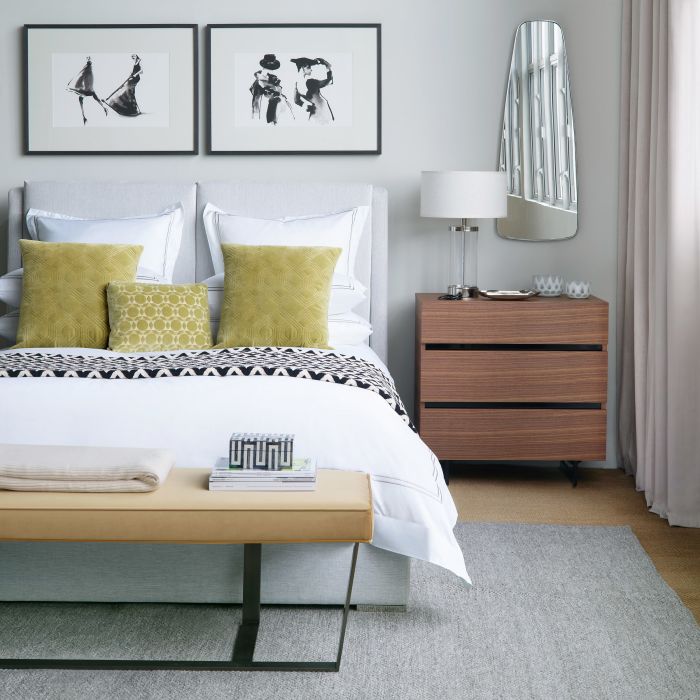 In the bedroom
This room is all about comfort, so go for a thick and luxurious rug here. Again, err on the larger side with your area rug in this room. You want to be able to step onto a cosy rug when you get out of bed, rather than putting your feet on a hard floor. If your bed is a queen or king-sized bed, allow for around 45cm (18 inches) of rug beyond the bedframe. For a twin or a double bed, allow for at least 30cm (12 inches). Your bedside tables, meanwhile, can sit partly on and partly off your rug. A square or rectangular rug works well here, and the Silk Shaggy Rug in Silver is a luxe choice for this room. It's also available in 8 x 10 feet.
An alternative to an area rug is a nice thick sheepskin rug on either side of your bed.
Layering
This will add visual interest to any room, and it's a great option if it turns out your rug is too small for the space you want to use it in. Place a larger rug underneath, and then a smaller statement rug on top of this, making sure you position them so you can see both. You can layer a few if you like, starting with a neutral rug at the bottom, and preferably your largest, topping it with other bolder and smaller rugs on top, again positioning them so you can see the patterns and colours of each.
Other need-to-know
For corridors or entryways, make sure your rug covers any area where you might have high foot traffic. This will keep wear patterns on your rug as even as possible, and it's more comfortable underfoot than walking with one foot on the floor and one on a rug.
Pick a rug that's durable enough to deal with a fair amount of wear and tear, but also be aware that you can have some fun in these empty spaces, because you can actually make a statement here.
As for colours, follow the same 60-30-10 rule we've talked about before, making sure your rug fits with your colour scheme and that it's either part of your 60%, 30% or 10% colour. And don't forget to have fun.
See more Rug