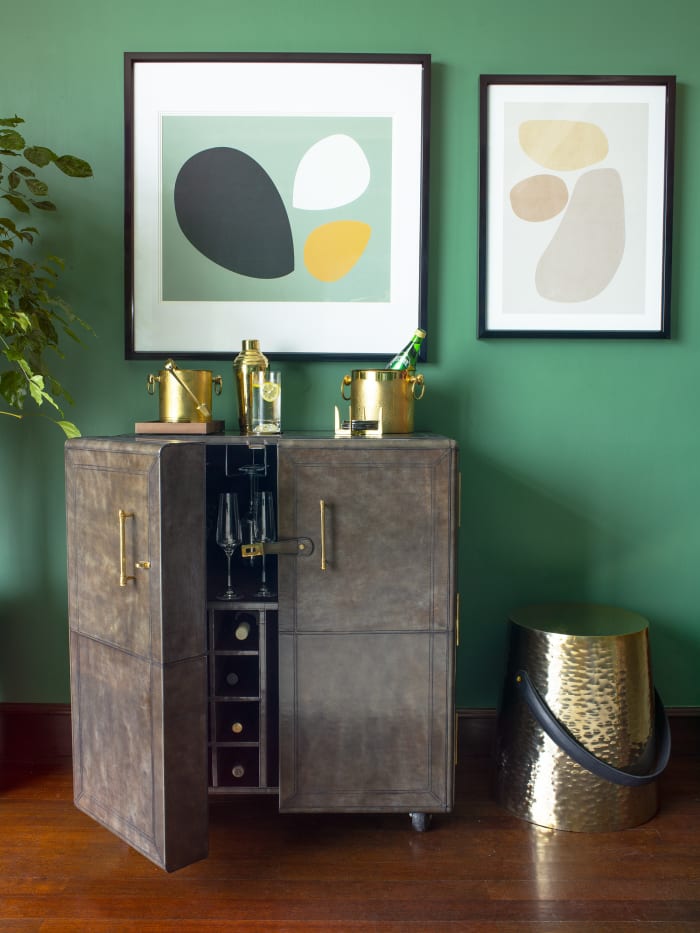 All the ingredients you need for a bar cabinet or drinks trolley you'll love
Whether you're getting festive for the holidays, prepping for that New Year's Eve party at home or you like entertaining all year-round, these bar ideas are sure to set a cheery tone. It doesn't matter if you have next-to-no space or lots; here are some ideas for simple ways to deck out the surface of a sideboard right through to creating a whole bar area, complete with glass cabinets, a sink and a sleek bar counter.
1. The liquor cabinet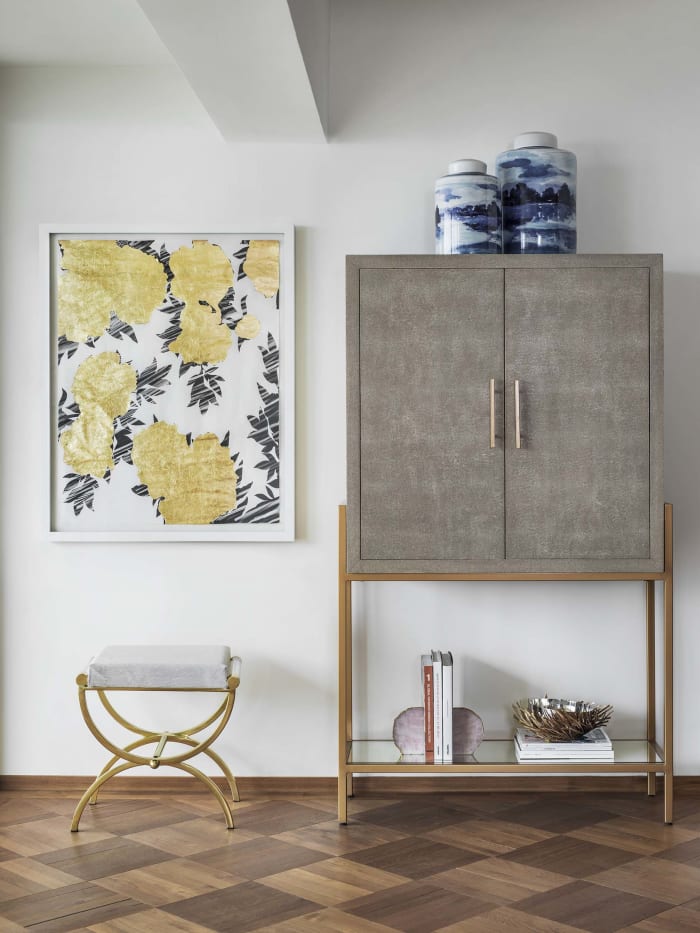 Turn an unused nook of your living or dining room into a showstopper with the help of a beautiful drinks cabinet. You can buy a cabinet specifically built for this purpose, like the Sting Bar Cabinet - Tabu or the Cardosa Bar Cabinet, or you can pick a standard TV cabinet or sideboard you love (like the Orson Cabinet, the Darren Cabinet or the Memphis Cabinet, or, if you want to show off your cocktail kit, go for the Hobbs Cabinet by Kelly Hoppen) and fill it with your favourite tipples (alcoholic or non-alcoholic). Fit it with customised shelves so that it's perfectly prepared for stacking glassware in, and, of course, your liquors and liquids of choice (and maybe a cocktail recipe book).
2. The drinks trolley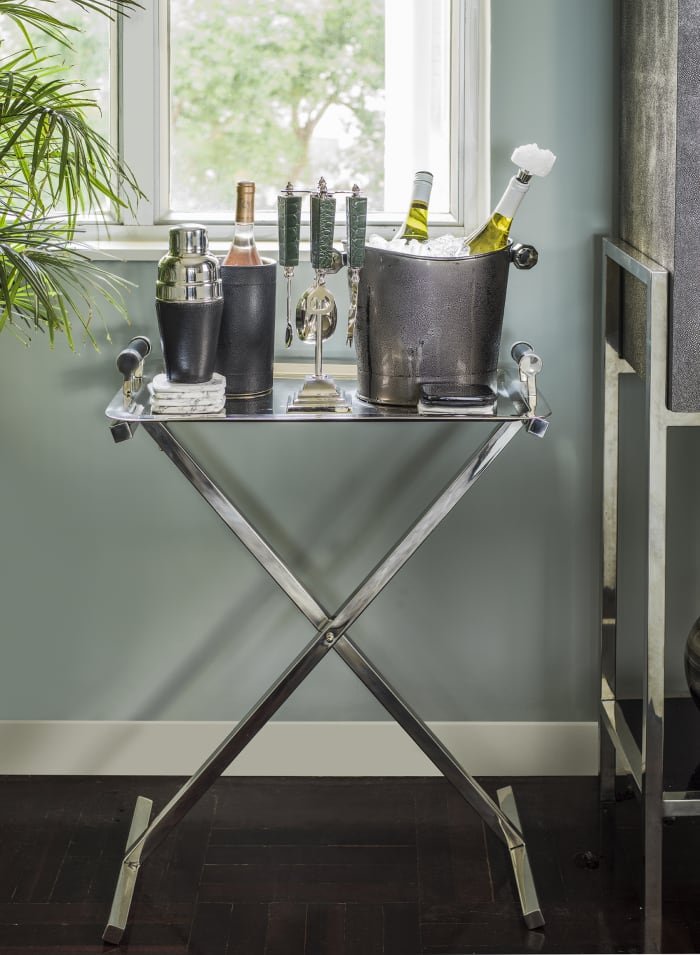 Similarly, a drinks trolley will put an empty corner of your living or dining room – or even your entry area or hallway – to good use. Most come with one to two shelves on which you can place your spirits, mixers, glasses and a champagne bucket like the Duplus Champagne Bucket or the Malleo Ice Bucket.
Arrange your drinks and accessories stylishly and you've got yourself some instant home decorations. Or, when it's not in use as a drinks trolley, you can deck it out with coffee table books, magazines, a candle or two and a vase of flowers.
For chic drinks trolley options, look at the gold-and-glam Rory Drinks Trolley, which comes with a built-in champagne bucket, the sleek Xenos Bar Cart in all black, or the Dylan Bar Trolley.
3. The fully kitted-out home bar
If you like entertaining and you've got the space to create a home bar, why not go for it? It's a fun way to gather people together for pre-dinner nibbles, a glass of wine or just a chat; as with kitchens, people tend to congregate around bars.
If you're building your own, you need to consider first where you're going to put your bar. Ideally it should be positioned close to your kitchen and/or dining area, so it's within easy reach of additional glassware, snacks, ice and more (unless you have enough space to keep these on hand in cabinets and fridges).
Next, consider your cabinetry and surfaces, and what you want to keep where. Glasses should be kept in a cabinet – glass-fronted ones are nice if you have attractive glassware – so that they don't get broken. Spirits can remain on countertops, along with all your cocktail and mocktail-making kit.
The ideal countertop height is higher than a kitchen countertop, at 107cm (42 inches) from the floor, and your counter surface should be at least 46cm (18 inches) deep in order to be a surface you can work on, and also that has the space for people to put drinks and food here. If you have enough space, go for a countertop 51 to 61cm (20 to 24 inches) deep.
Meanwhile overhead cabinetry should begin at around 153cm (60 inches) up to about 175cm (69 inches), so that it's slightly above eye height.
In terms of countertop material, choose something that won't stain or scratch easily. Metals like stainless steel or copper will scratch; it's up to you whether you're comfortable with that look. Copper will also take on a patina as it weathers and ages. For some, this is half the appeal of copper, but for others who prefer a polished, finished look that doesn't change, composites like Corian or Silestone may be more appealing.
Marble or other natural stones are also a good choice. Marble makes for a glam, elegant finish – go for dark marble, however: marble is very porous and white marble in particular will suck up red wine on the rims of glasses, chilli sauce and oil spills, and you'll be stuck with them unless you clean up super-speedily. Granite is a good choice for bar counter surfaces, as it is non-porous and highly durable.
A sleek touch would be a mirrored or tiled backsplash. A smoked or antique-effect mirror will set the tone nicely, or small matte white or silver tiles would look equally stylish. It really depends what look you're going for: is it sleek and modern? Go for a Corian counter and a plain or smoked mirror backsplash, and mirrored or MDF-finished cabinetry doors. Is it vintage or mid-century modern? A marble or copper counter would do the trick. Go for rounded corners if it's a vintage look you're after.
An alternative to the backsplash – and one that will definitely make a style statement – is wallpaper. Want that boudoir feel? Pick a vintage-style wallpaper. Or go for something retro. Or paint the walls around your bar in a colour you love (provided it goes with the rest of your home décor). You can have a little fun with this area, as it's meant to stand out from the crowd.
No home bar would be complete without bar stools. And indeed, the height of your stools of choice may affect how high your bar countertop is (or vice versa). Standard bar stool height is around 74 to 81cm (29 to 32 inches); your bar stools they should sit at 25.5 to 30.5cm (10 to 12 inches) below the underside of your bar counter. Check out Indigo Living's Cedric Bar Stool, which offers cushioned back support for a comfy seat (and it's on sale), or the industrial-chic black Smith Bar Stool by Thomas Bina for Sonder.
Another finishing touch is lighting. Make sure you have adequate task lighting to chop limes and lemons by, and to pour drinks by. For this, you ideally want a mix of downlighting and pendant lights that are positioned to light your work area, while also not getting in the way of you being able to talk to your guests. Ideally, pendant lights should sit at 76 to 102cm (30 to 40 inches) above your countertop.
4. Small space home bar ideas
If you're really tight on square footage but you want to have a bar at home, try turning a spare cupboard into a bar cabinet and jazzing it up with a small mirror inside, and hooks for your cocktail kit.
Make it look the part by cladding the interior of your cupboard in fun wallpaper, or again, painting these inner surfaces in a colour you love (go bold here – why not? It's not a space you have to look at all the time, after all).
A super-simple, mini home bar idea is a serving tray decked out with all your favourite drinks. Try the Classic Serving Tray with Malachite Handles, the Moss Organic Hexagon Tray, or the Curves Glass Rectangle Tray. Style up your serving tray nicely, considering how you position your bottles and cocktail kit, as this is likely to be on show on a sideboard. A simple tip: keep the less-attractive spirits / drinks bottles out of sight in cabinets, and set out bottles that are in coloured glass, or that are a more unusual shape, and finish the look with some beautiful, hand-cut coupes for champagne and some elegant whisky tumblers. If you're the practical type, though, you may want to place only those items you use frequently on your serving tray (even if they don't look so pretty).
5. The glassware / the equipment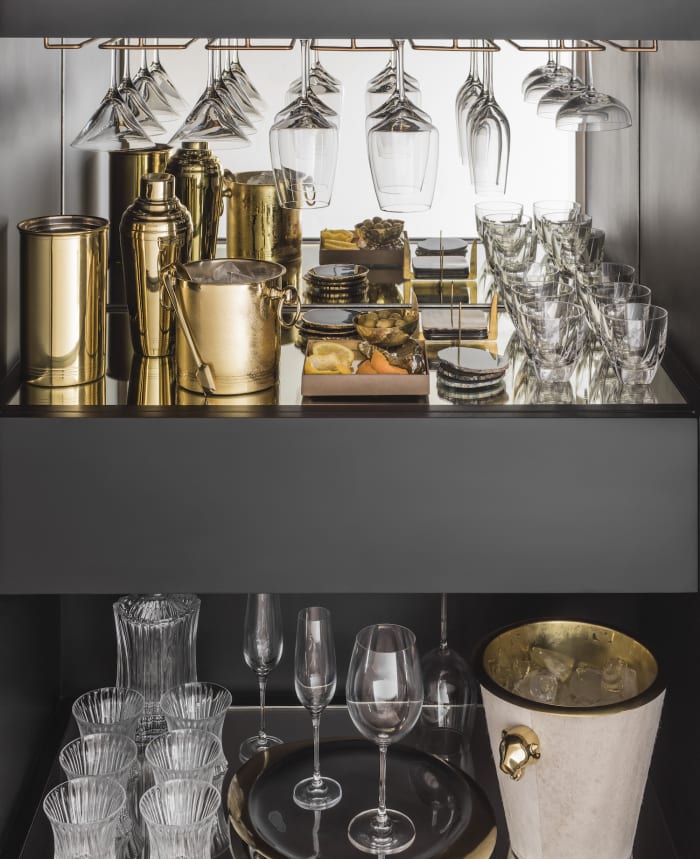 No home bar would be complete without the right equipment, and that means elegant glassware designed for everything from Martinis to champagne and red wine. Indigo Living offers the Nude Whiskey Glasses, the Krosno Champagne Flutes, and Maxwell Williams' playful celebratory glasses (like the Naughty & Nice glasses).
In addition, if you or your friends or family like cocktails, you will need a cocktail shaker like the Lorum Leather Cocktail Shaker or the Auric Cocktail Shaker, which is sure to grab attention, stirrers and perhaps even special ice cube makers (if you like your drinks on the rocks). And don't forget your ice bucket! The Lorum Leather Ice Bucket is a super-stylish option.