If you're short on space but you need somewhere for your mother-in-law or those out-of-town friends to sleep, a sofa bed may just be the solution. This multi-tasker can sit quite happily in your living room or your TV room (or your kids' playroom if you have one), serving as a sofa by day and a bed by night.
There are so many to choose from in Hong Kong, though – how on earth do you find the right one for you and for your space? Clinton Cordeiro, Design Consultant for Indigo Living, is here to offer his advice on sorting the duds from the divans, the futons from the sofa beds, and to give his take on the style versus comfort debate.
Tip #1: Choose comfort
Which comes first, style or comfort? Comfort, says Cordeiro. "If you're considering a sofa bed in the first place, then you will probably be expecting guests, who will fully appreciate a good, comfortable night's rest."
It's not just about overnight comfort, though. "Think about sitting comfort, and sleeping comfort!" says Cordeiro.
The easiest way to find the best sofa bed comfort-wise? Test it yourself. Visit Indigo Living's Hong Kong stores to try their sofa bed range in person.
Tip #2: Pick the right mattress
The quality of the mattress will play a role in determining how comfortable your sofa bed is to sleep on. "Look for mattress thickness and structure, so that you don't feel the coils or structure," says Cordeiro.
Convertible sofas come with various different mattress options: futons often come with cotton or synthetic fibre-filled mattresses – you'll need one at least 8 inches (20cm) thick for real comfort.
Many sofa beds come with foam mattresses; these are often made of low-density materials that can make for an uncomfortable night of sleep: you or your guest are likely to feel every bit of the bed frame underneath the mattress. Try to pick a sofa bed that comes with a mattress in memory foam or foam gel for added comfort.
Innerspring mattresses are another option. For the best night's sleep, pick a sofa bed with a mattress that's at least 5 inches (12.5cm) thick and steel coils. Be warned, though: springs can make for noisy beds that will protest if the sleeper tosses and turns. These therefore are better for private rooms than, say, a sofa in your living room.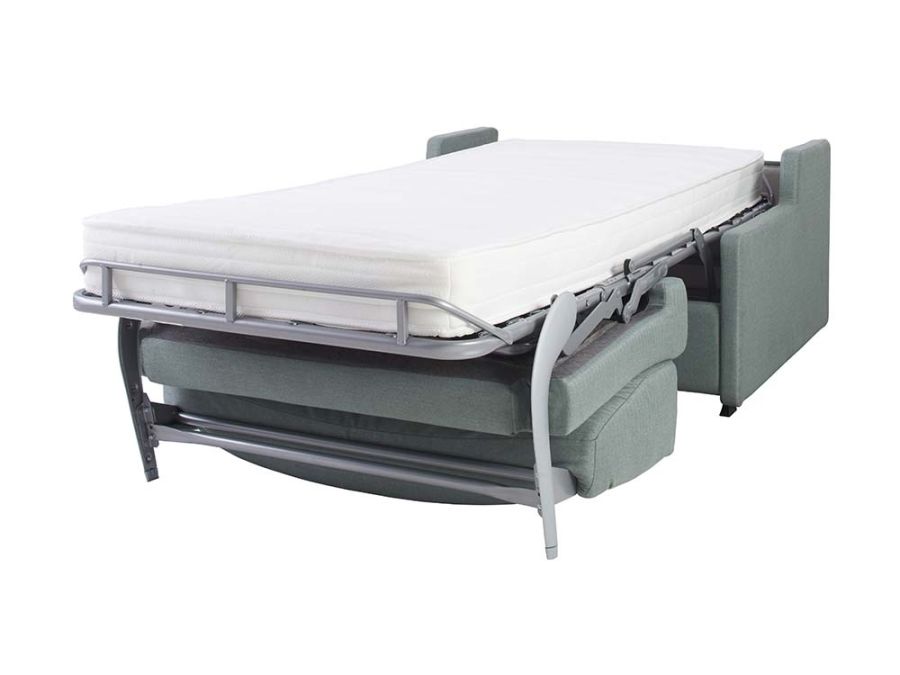 Furniture featured: Emanti Single Sofa Bed
Air-over-coil mattresses are a relatively new option: they fold up in a compact fashion but when open, they're often twice as deep as other mattresses – and therefore super comfy.
Also look out for a mattress and bed frame that fold twice rather than three times. If a mattress folds three times when you shift it from bed to sofa, it's likely to be thinner and therefore less comfortable.
For additional comfort, add a mattress protector under your sofa bed's sheets. This will provide an extra layer of support and keep the sleeper from feeling coils or bed frame, while also protecting your mattress from potential stains.
Tip #3: Sofa bed or futon?
A futon is a mattress that can fold up to resemble a couch. It's quick to set up, with no real requirement for frames and special mechanisms. "Futons tend to be more versatile and lighter, because you can move them around, and they typically cost less. Some futons also have a recline position, in addition to the upright sofa back, or bed format," says Cordeiro.
But futons tend to be less comfortable than sofa beds, especially when they're in couch mode. And they look like what they are: there's no making a futon blend in with the rest of your living room furniture.
A sofa bed, meanwhile, is a sofa with a bed inside it, meaning it's naturally more comfortable than a futon. Plus it looks like a sofa when closed, and a bed when open. But a sofa bed requires more complex open-close mechanisms, and these mechanisms mean they're considerably heavier than a futon, or a normal sofa.
Tip #4: Pick a sofa bed with intuitive mechanisms
If you're going for a sofa bed, "Ease of use is important," says Cordeiro. "Try opening the sofa bed to check for ease of movement and smoothness. A good mechanism won't require muscle or effort."
Standard sofa bed mechanisms include click-clack mechanisms (super-simple mechanisms that characterise futons: open till it clicks, fold it so it lies flat and clacks). Then there are pull-out mechanisms, which allow you to pull open a sofa bed with just one hand. Power open mechanisms allow you to push a button and hey-presto, your sofa opens into a bed.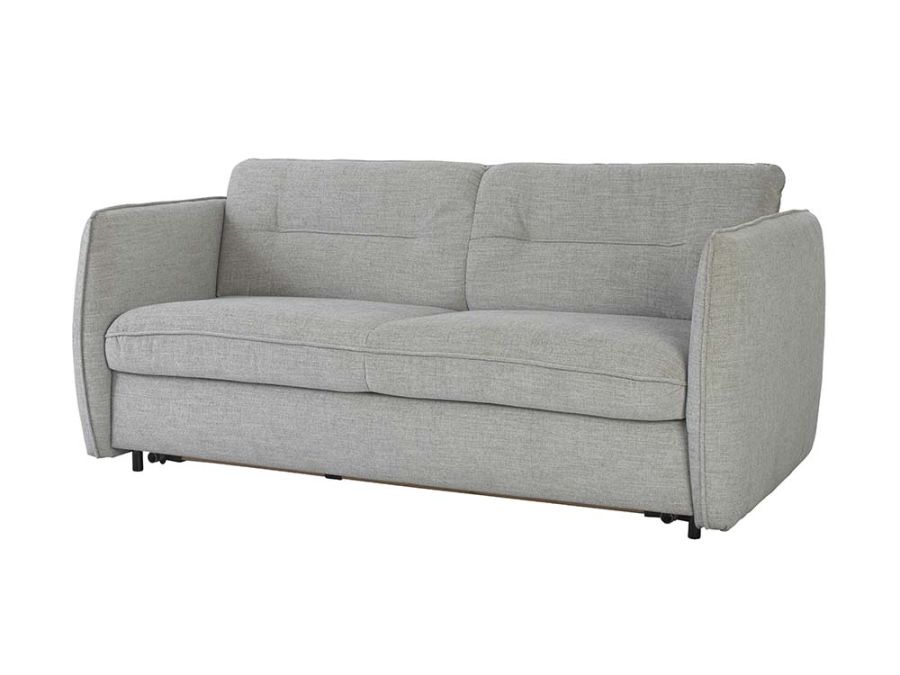 Furniture featured: Trabia Sofa Bed
At Indigo Living, the Trabia Sofa Bed uses a special mechanism from Europe that's super-easy to operate. This is one of Cordeiro's favourites. "It also comes with a 13-cm, specialised spring mattress to ensure your guests have a good night's sleep. And it's a supremely comfortable sofa that you will easily fall asleep on, without even having to test the mechanism!" says Cordeiro.
"Plus it's a beautifully styled sofa so that your spare room study or indeed your living room will look as fabulous as it will be comfortable."