Design Inspiration
Mar 11, 2019

6 Ways to Turn your Kid's Bedroom into a Creative Haven
Your child's bedroom is the one place in your home where you can really get creative, so use your imagination and have some fun here! Not sure where to begin? We'll get you started, with the help of ideas from Indigo Living's in-house experts in children's interior design, the team's simple yet playful solutions, and carefully curated product picks – all of them available from Indigo Living.
1. Get your child involved
If you want to create a space your kid or kids love, get them involved from day one in decorating it. "Getting their input helps them embrace and love their room. This is especially true when choosing a bed. They need to want to sleep in it!" says Terry.
It's also a great way to spend time together, Terry points out. "You can spend time together discussing colours and planning. It will also make them feel like the space is truly theirs."
2.Create a bedroom that can grow as your child does
You probably don't want to go through the whole process of decorating your child's space every two years, so start with a base that's neutral and flexible enough to change as your kid grows taller, and as their tastes change.
"Stick to simple, neutral décor!" says Alexandra Terry, Indigo Living's resident furniture and design specialist. "Neutral colours and gender themes are timeless."
An easy option is to work with kids' bedroom furniture in white and wood – the Hoppekids, Noah and Archie collections all offer plenty of choice here – and then get creative with painting or decorating your child's walls in a fun colour, by using wallpaper, or decals. Try the Twinkle Little Star or Solar System wall decals from Walplus if you want to customise your kid's bedroom walls.
Flexible, adjustable furniture is a great choice for the growing child, too. This is particularly important when it comes to your kid's bed. BLN design's Cloud Extending Bed can be extended from 110cm to 200cm – with two sizes in-between – taking your child all the way from toddler to 12.
3.
Think ergonomically
Think about the space from your child's point of view: make sure everything is accessible for them, both in terms of their height and their mobility – whether that's their toys, their books or their bed.
Storage furniture in particular should be easily accessible, says Sanna Hall, Indigo Living's kids' furniture buyer. Try the Tidy Kids Bookcase or the Archie Bookcase into your child's bedroom – they're both designed to put books and toys within easy reach of kids aged 4 to 8 years old.
4.
Carve out space for play
Don't forget to make room for your child to play with their toys, says Hall, kids' furniture buyer at Indigo Living. Designate an open play zone uncluttered by furniture – use a cute rug to "bring it all together," she adds: it will delineate space, while keeping things soft on little knees (and heads!). The Indigo Kids Dots rugs and Stars rugs are fun choices, as is the Little P Cloud rug in 100% New Zealand wool.
Or set up a tent or tepee in one corner of the bedroom as a nook in which your child can read, play or get creative.
If you're tight on space, stick to the essentials when it comes to furniture, advises Terry. "Don't overcrowd a small room. Focus on a good bed and storage, in the form of under-bed storage or baskets." The Sebra set of three baskets in blue is a great choice.
If space is an issue, why not opt for an elevated bed that gives your child a cosy corner to play in? "Building upwards is a great way to keep all-important floor space free for play," says Hall.
The Hoppekids Premium Half High Junior Bed fits the bill perfectly, and it's great for kids aged 4 to 7 years old. The Noah Cabin Bed also works well for kids aged 6 to 12 – and it comes with a built-in corkboard that your child can use for notes, artworks and general self-expression.
5.
Make room for your kids to express themselves
Speaking of self-expression, if your kid is imaginative or artistically inclined, here's an idea: turn their whole bedroom into a creative den. You could frame your child's artwork and turn it into art for their walls. Or you could turn one wall into a blackboard your children have total freedom to draw all over.
And, says Terry, make it tactile. "Kids learn from sensory experiences so have a variety of textures." Indigo Living's Lamb Fur Rug – available in pink or white – is just the ticket.
6.
Theme your child's bedroom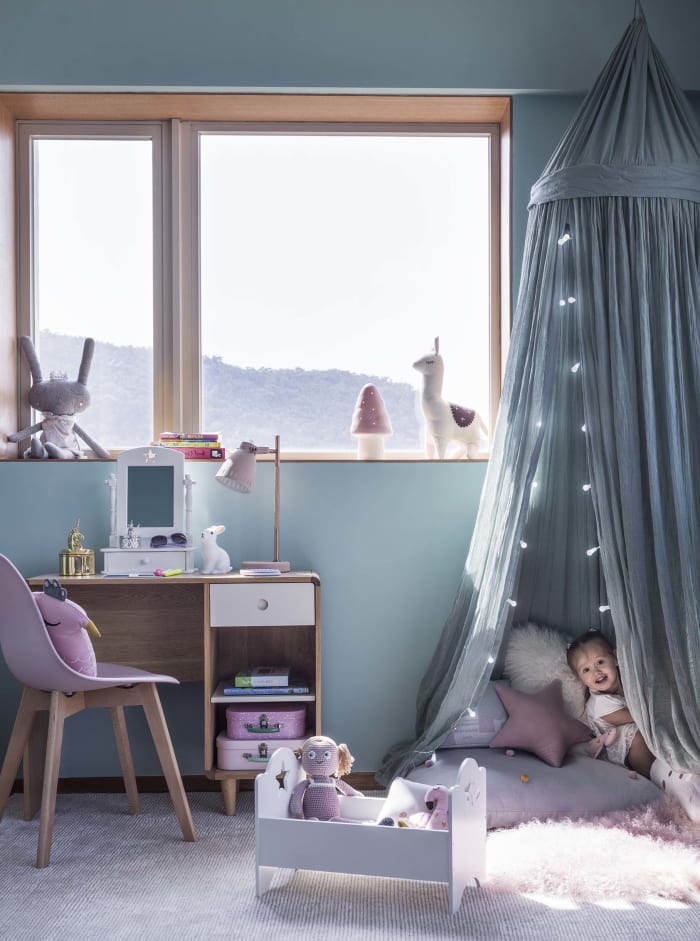 Another fun way to get creative in your kid's bedroom is to give it a theme. Terry suggests going gender-neutral to keep it timeless. "A good one is the ocean theme," he says.
If there's something your child loves, use this as a starting point for their bedroom theme. If your child loves outer space and rockets, decorate with Snurk's Astronaut Duvet Cover Set, the Rocket Blanket and Rocket Pillow. Use Walplus' starry wall decals, or paint stars, a moon and planets on your child's walls yourself.
Another idea for animal-loving kids: create a safari-themed bedroom. The Tiger and Lion Head Trophees from Brigby's Room Friends will give walls a playful touch. Floor-side, set up a tent for 'camping' in – the Kids Concept Tent in grey is a fab choice – and decorate it with comfy cushions like Safomasi's Monkeys and Jungle Cushions. To complete this look, keep your child's furniture simple in raw wood finishes. The Archie Cabin Bed will work for the 4 to 7s, while the Archie Single Bed will top off the look for older kids.
For a magical space for little girls, paint the bedroom walls in a soft shade of pink or lavender – or, if you're feeling really creative, adorn them with rainbows and characters from their favourite, fantastical storybooks. Finish the look with the Luna Tower from Hoppekids, the Clouds Wall Clock, Unicorn Trophee and BLN design's Cloud Bedside Table. Rice's Unicorn Jewellery Box makes for a pretty touch.