Beautiful Living
Aug 16, 2019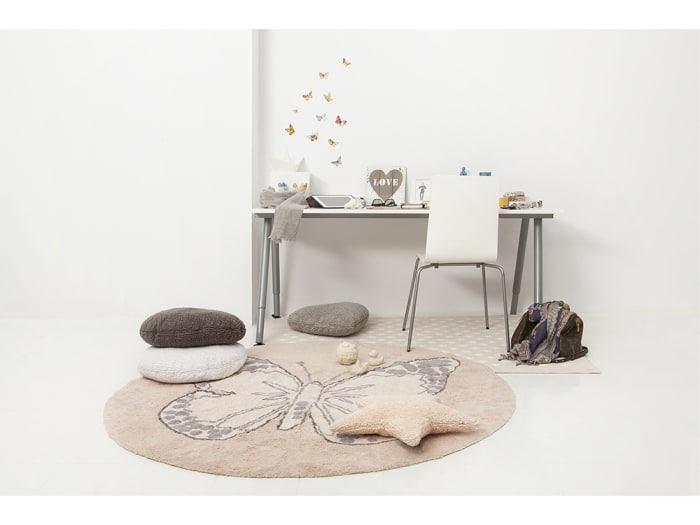 Find the perfect rug for your child's room with these tips
A great rug can bring a child's room together, grounding furniture in the space and providing softness underfoot for little ones. A rug for a kids' room is harder to choose than your average rug, though, because more is required of it. Your kids spend a lot of time reading and playing on the floor, so their rugs have to withstand food, dirt and liquid (including vomit) spills, they have to be comfortable, and they need to be fun and stylish enough to fit with the rest of the bedroom. Here, Juhi Rastogi, Buying Coordinator for Indigo Living, answers all your questions about buying rugs for children's bedrooms and playrooms.
How big should a kid's rug be? And how much space do I need?
This is the first thing you should consider, and it really depends on how big your child's room is, and where you want to place furniture. "If you're placing a rug under the bed, it should stretch for at least 18 inches (45cm) on either side," says Rastogi.
For an area rug like this, look at options that are 6 to 9 feet (182 to 274cm) or 7 to 10 feet (213 to 305cm) – ideal for under twin beds – or, for under full-sized beds, 7 to 10 feet or 8 to 10 feet (243 to 305cm). "An area rug can be accented with smaller fun shaped rugs," adds Rastogi.
The front legs of your child's bed or cot should sit on top of the rug – as a good rule of thumb, position the rug so two thirds of the bed sits on top of it. This is a good rule to follow if the bed sits perpendicular with the wall; but if your child's bed runs along one wall, you can place the rug flush with the wall.
If your space is compact, however, "a runner on either side of the bed will also serve your purpose," says Rastogi.
Alternatively, you could place a soft sheepskin next to your child's bed, and then use an accent rug to delineate a play zone, or a reading corner.
What materials should I go for?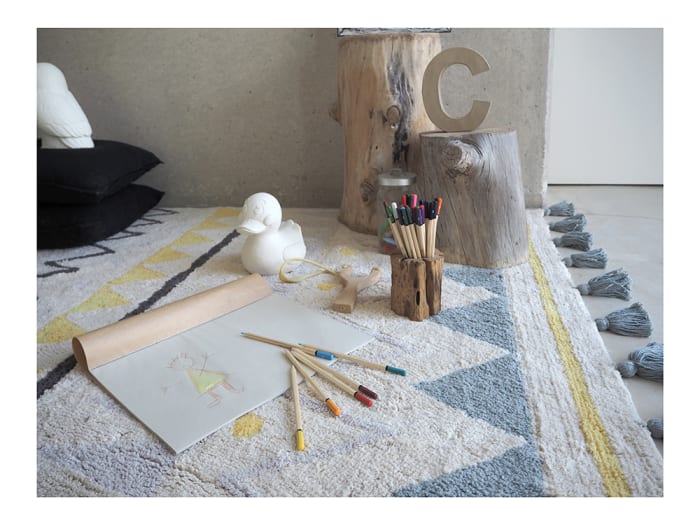 Look for rugs in materials that are long-lasting, and that don't trap dirt easily. Make your life as simple as possible by choosing a rug that's a cinch to clean – and one that hides stains.
"Ideal rug materials would be jute, cotton, polyester and wool. Polyester and cotton ones are the winners in terms of durability and they're easy to clean," says Rastogi. "Consider the style of weaving of the rug. It should be a tidy flat weave… and make sure the yarns can't be pulled off easily with wear and tear. Avoid buying a rug with long, deep piles of yarn, as small toys can get trapped here. Kids may trip over them, or you or they might hurt their feet on them."
If your kids are toddlers, don't go for rugs with decorations like pom poms attached to them, advises Rastogi. "These can easily be plucked off."
"The Lorena Canals Rugs range is a good one. They're all domestically washable: easy to wash and can be washed in a conventional washing machine. Perfect for playrooms. The range is also eco-friendly; it is made from natural cotton and non-toxic dyes."
What about colours?
It's really up to you – and your child if you want to get them involved – as to what colour rug you go for. It depends on the rest of the décor in your child's room. Rugs in neutral hues like beige, taupe and grey are of course the most versatile, and they hide spills nicely. They are a good option if you have a lot of pattern and colour going on in your kid's room already.
Patterned rugs are also a good option when it comes to hiding stains, and they're a fun choice if the décor in your child's room is quite simple.
Bear in mind that a white rug will show every mark and every bit of spillage.
Anything else I should keep in mind?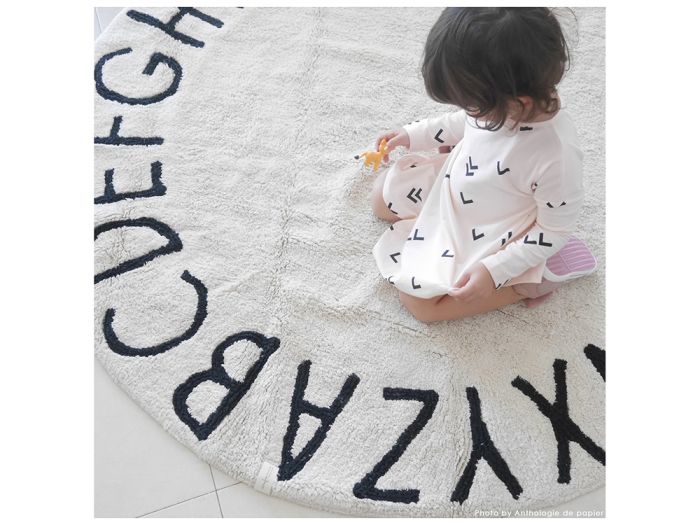 For safety reasons, it's important to always use a rug pad under your rug, says Rastogi. "This will help avoid slips and falls."
Rugs can also be a platform for learning, says Rastogi. "Go for a rug with the alphabet on it, or numbers, or a world map."
Check out the IVI Play Mat in Traffic Blue; it will instantly turn your kid's floor into a play area. Meanwhile the Lorena Canals' ABC rug makes learning the alphabet fun for little ones.