Beautiful Living
Dec 30, 2019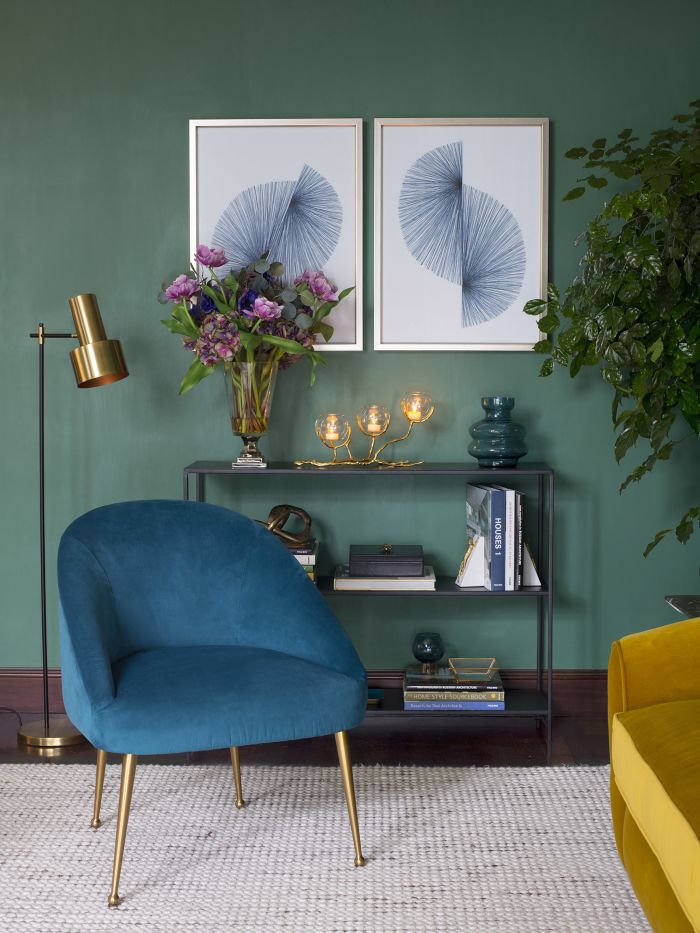 Use candles and candleholders to complement your look and set the perfect mood
Candles and candle holders make for a lovely finishing touch to your home décor. When they're not lit, they're an additional decorative feature you can style with; often they sit at a different height to other home décor elements, creating a sense of dimension and helping you layer your space. Meanwhile, when they're lit, they will change the mood of your space, creating a mellow, intimate and even romantic vibe.
Plus they work in almost any room of the home. Use them in your living or dining room when you're entertaining, in your bedroom or bathroom to create a relaxing atmosphere when you need to unwind (or when you want to get romantic!). They're especially useful as we approach the festive season: Indigo Living even has glitter candles in red or gold – these are perfect for holiday decorating and entertaining.
Here are some ideas for decorating your home with candles and candle accessories.
1. Create a cosy nook
Turn an unused corner of a room into an intimate and comfortable space to chill in, with the help of candles and candle holders. This could be where you sit and read a book, where you meditate, where you listen to podcasts or music, or where you snuggle with your partner.
Set the scene with lots of comfy cushions atop a blanket or rug – we suggest mixing velvet and satin-finish cushions like the Panther, Insect, Dragonfly, Melanie and Quilted cushion covers in berry, mustard and navy shades, set atop the Grampian rug in Ebony or Snowfield, or the Jacana rug in Silver.
Add a side table or set of nesting tables like the Adrian Side Table Set or the Cameron Nesting Table Set, and top them with a whole collection of candles in different shapes and sizes.
The perfect finishing touch? Indigo Living's Jewel Toned Candle Holders, the Lattice Candle Holders, or several of the Bestiola Candle Holders.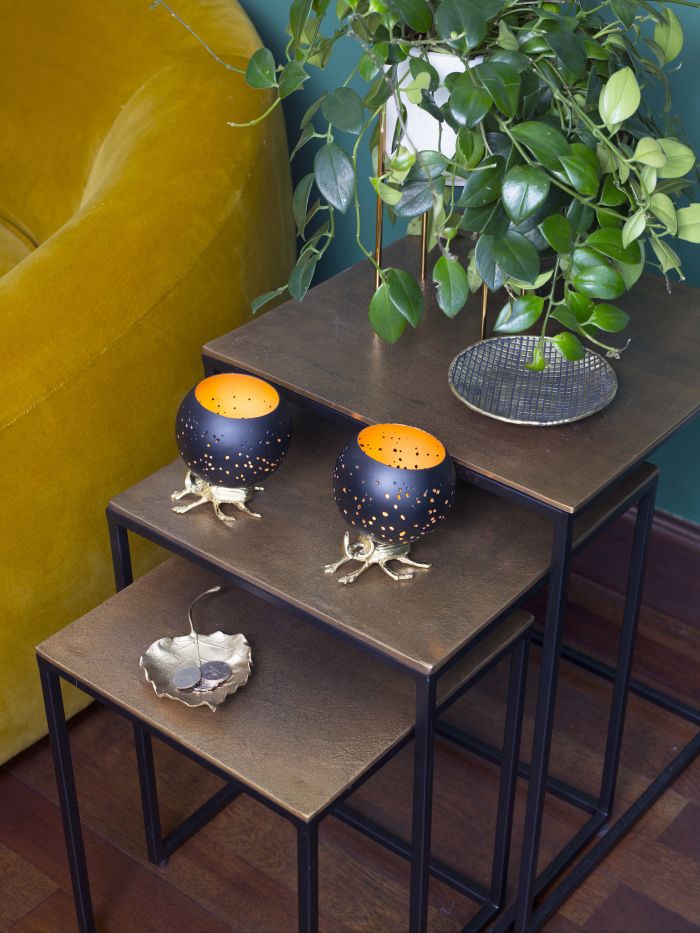 2. Set the scene for a dreamy dinner
When it comes to dinner parties, it's hard to get lighting right. It's either so bright that the atmosphere feels contrived, or it's too dark, and you can barely see your companions. Candles, however, create the perfect dinner setting: they deliver a sense of romance, intimacy, and cosiness that naturally draws everyone together, and candlelight is universally flattering.
Try grouping candlesticks in different heights together as a centerpiece, or dot them along your table, interspersing them with flowers strewn along the tabletop. Using candlesticks in different heights will create a sense of visual depth.
Try the Cielo Candle Pillar, which comes in low and tall versions, or the Hemi and Hemi Sphere Candle Sticks, or several of the Facet Candlesticks. Pair your candlesticks with Indigo Living's Ivory Taper Candles for a romantic and formal setting.
Alternatively, go low so that everyone can see each other, and dot your table with plenty of votives, like the Haze Votive Holders, Izon Votive Holders or Confetti Votive Holders.
We also recommend going with groupings of three, five or seven – odd numbers, basically, as stylistically this create more of an impact than even-numbered groupings. Somehow, odd-numbered groupings feel more natural and less forced.
3. Use them decoratively
If you've got a shelf that feels empty, or an altar table in your hallway that's in need of – well, something to jazz it up – why not try decorating with candles and candle holders?
The Forest Tealight Holder is an instant attention-grabber. Coming in glass and copper, this candle holder is striking enough to sit on a console table on its own.
The Haus Multi Candle Holder will also look beautiful on a console table in a hallway, or atop a chest of drawers or a low-lying cabinet in your living room.
Ideal for side tables, coffee tables or bookshelves are the Glen Tealight Holder, the Scrunch Holder and the Rose Quartz Geo Votive. All are beautiful enough to serve as ornaments in their own right – and then, come evening, fit them with tealights, light them up, and you'll instantly transform the mood of your space.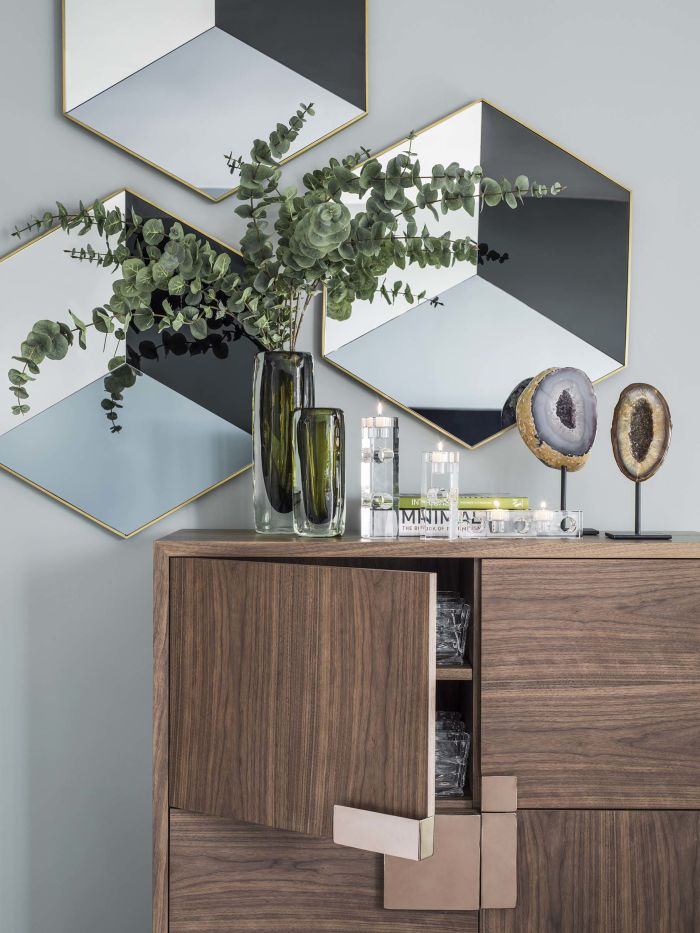 4. Transform a boring powder room
You can also use candles and candle holders to change the mood in your powder room – especially if your guest bathroom is a boring or even unattractive space. Candlelight hides all manner of sins.
You can go for an oversized scented candle like Wax Lyrical's Black Tea & Jasmine 2-Wick Candle, or go unscented and opt for Indigo Living's Church Candles in a range of sizes (they also come in understated ivory or taupe, or festive red). Set them on a tray like the Gold Leaf Glass Tray, or place them in the glamorous Lattice Candle Holders.
Another way to bring candles into the bathroom is with lanterns. These can be placed on the floor in a corner, atop a cabinet or set of shelves, or on a window sill. Try the Arundo Lantern: we suggest two small and one big lantern for a pretty, styled setting.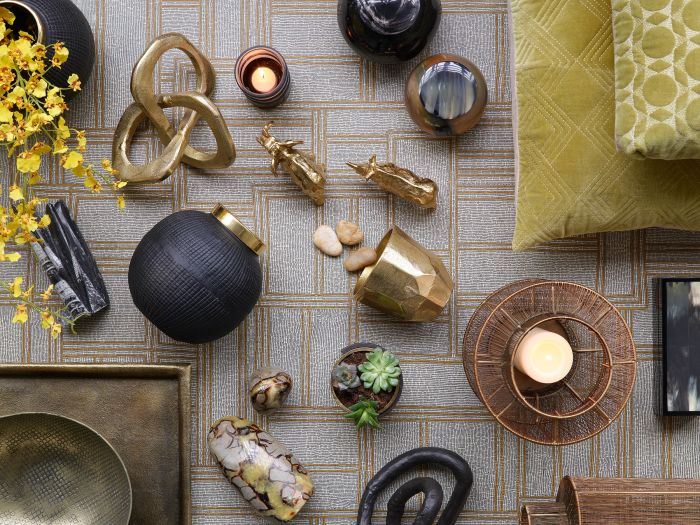 If you're concerned about having live flame in your bathroom, or in any other room for that matter, you can try Indigo's LED Candles instead.