Beautiful Living
Dec 30, 2019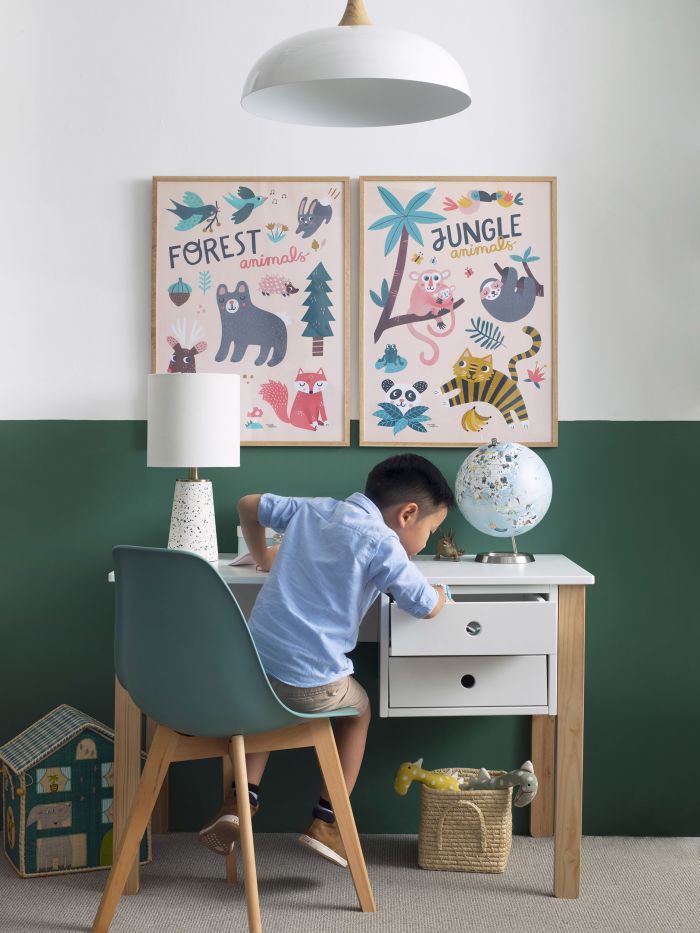 Set the scene for a homework station your child will love
Is homework time a struggle for you and for your kids? Maybe what they need is a study area that feels inspiring – there's a whole science behind adults and how they work more happily and productively in the right environment; it makes sense that the same would be true of children. Here are some tips on how to create a study area that's fun and focus-oriented.
Comfort first
The 'right' environment consists of several elements. First, comfort and ergonomics. Your child needs a chair that's comfortable enough to sit in for long periods of time without being distracted by the hard seat underneath them. Their desk and chair need to be ergonomically designed, too: this will provide the right back and hip support for growing bodies.
This ultimately comes down to very simple factors: your child's height and their age. Pick a chair that's designed not only for their age, but also their size, says Yvonne Lacey, Head of Buying for Indigo Kids.
Your child's desk should sit in line with their diaphragm when they're sitting in their chair. For children who are 100 to 115cm tall, the right desk height is around 45 to 48cm above ground level (or 18 to 19 inches). For children who are 120 to 150cm tall, the ideal desk height is 55 to 65cm (22 to 26 inches). Your child's chair should be positioned so that their eyes are roughly 30cm (12 inches) from a book or piece of paper sitting on their study table.
If you have the space, go for a tabletop surface that's at least 100 by 60cm (40 by 20 inches). The Noah Kids Desk is a good option, at 110 by 60cm, offering a spacious work surface.
As well as taking measurements into consideration, think about safety and materials – which should ideally be natural (wood, for example) and painted with low- to no-VOC paints so they're free of chemicals and nasty fumes.
"Key characteristics to look out for are stability, no loose parts, good quality materials and finishings, easy to use and understand," says Johanna Paulsson, Buyer and Product Developer for Indigo Kids. Most importantly, she adds, "you need stable legs and a stable base. Kids move and climb. Your kid's desk and chair have to be safe and functional."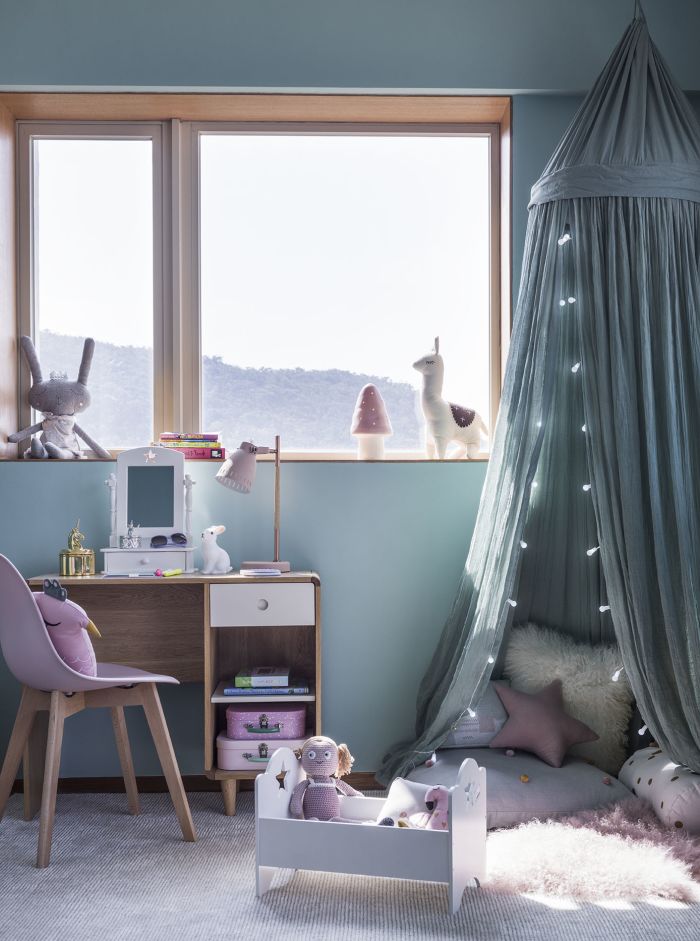 Also look for slow-closing drawers and furniture with rounded corners, like the Archie Desk, which is one of Indigo Kids' bestsellers (plus all Indigo Kids desks and chairs are tested to ensure they meet industry standards).
Also think about whether it's "easy to clean. Will it grow with my child as they get older? Can I fit a laptop or computer here as my child gets older and his/her needs change? Can I hide wires if I need to for a desk lamp, devices and chargers?" says Lacey.
Let there be light
Studies have shown how powerful natural light is in workplaces for health and wellness and consequently productivity – and children are no different from adults at the end of the day. Like their parents, kids are more likely to work better if they have access to natural light sources (when they're studying during daylight hours, that is).
Try to position your child's desk near a window, preferably with a green or sea view if possible; studies show that kids may look to nature for a cognitive reset. For evening study time, make sure your kids have a good task light source. Present Time's Table Lamps are an effective choice, and they come in shades of teal, pink and white. The Curry Kids Table Lamp is also a fun, colourful option.
Think small
If your space is limited – if your child's study area is compact, or if you're trying to fit two kids into the same study area – then you have to use wall and floor space, suggests Paulsson.
Pick a desk with built-in drawers – consider assigning separate drawers for different kids, says Lacey. Use under-desk space as storage, too: "Use our baskets in different colours for different items," suggests Paulsson. Indigo Kids' Canvas boxes, as well as its Raffia and Braided baskets are all fun alternatives.
You could also choose a kid's bed that incorporates a desk, like the Archie Cabin Bed (the desk can be pushed under the bed when it's not in use). Or the Noah Kids Cabin Bed; there's a desk underneath the raised bed.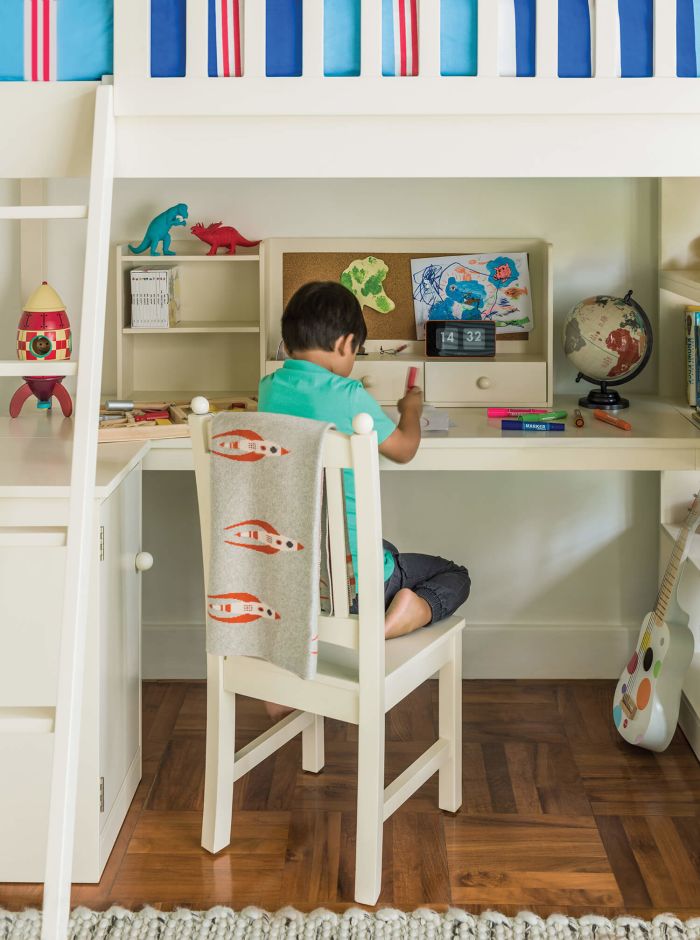 Clutter looks even messier in small rooms, and a busy space is not conducive to calm, effective study (for kids or for adults). So it's even more important in a small room to keep things clean and tidy. "An organised desk enables your child to start a new play or study session every time they sit down here," says Paulsson.
Organise stationery in containers on a desk surface, or, better yet, install floating shelves on walls for pens, paper and books – or install a pegboard wall with shelves your children can adjust to suit their own needs. "Cork or magnet boards are also great," says Lacey. "They can decorate them with their own artwork and pictures."
"We also have a Tidy Up books product that you can carry around and place wherever you want," says Paulsson.
If you need to create a study area for more than one child within the same room, consider painting the wall behind each child's area in a different colour, or using different wallpaper, different coloured lamps and other colourful and decorative elements to distinguish each child's space. You can also use this same colour blocking trick to delineate sleep areas versus study areas versus play areas.
Get playful
A creative space will encourage your child to interact with it; they'll want to work here, and hopefully, it will inspire them to get focused when they sit down to study.
Start by writing down "what you need and make a wish list together with your child," she suggests. "This makes you focused and I'm sure you'll get some funny suggestions from your kids, and it will inspire great ideas you hadn't thought of yet."
But, cautions Lacey, make sure you come up with study décor ideas that are "creative, but without distracting your kids from focusing on homework. Decorate with educational, creative elements like a fun world map, colourful books, their own artwork or certificates."
The Milky Way Dome Wall Clock is a fun, decorative element that's also educational, teaching children about space and time. The Globe Animals, meanwhile, helps kids learn geography while understanding where different animals come from.
"What does your child love to do?" asks Paulsson. Factor these interests into their study space – whether that's animals, astronomy, robots, or dinosaurs. If they love drawing, why not turn one whole wall of your child's bedroom or study area into a chalkboard where they can sketch to their heart's content? This is also a useful place for kids to take notes, and to make lists of homework tasks.
For a dynamic, energetic space, bring some living greenery into your child's study area. Plants such as rubber plants, African violets, snake plants, spider plants and Boston ferns are all non-toxic options for children, they're low maintenance, and they'll add easy vibrancy.
Most importantly, of course, have fun.