Beautiful Living
Mar 11, 2019

The Definitive Guide to Pillow Shams
It's a common challenge when decorating a bedroom: do I need pillow shams? This little but important bedding accessory adds a pop of style to the space where you spend 1/3 of your life, but typically isn't slept on. To make sense of shams we've written this definitive guide. You'll learn what they are, the different types available, and most importantly why your bedroom would benefit – not to mention lots of inspiration for pillow sham design ideas.
What is a Pillow Sham?
Not all pillows are intended for sleeping on. Throw pillows, for example, are intended purely for decorative purposes; their fanciful textures often make them uncomfortable to rest on compared to ordinary pillows. You can transform ordinary pillows into throw pillows - and easily back again - with the use of a pillow sham. A pillow sham is a decorative cover intended to improve the aesthetic appearance of a pillow, and therefore your bed as a whole.
Differences Between Pillow Shams and Pillowcases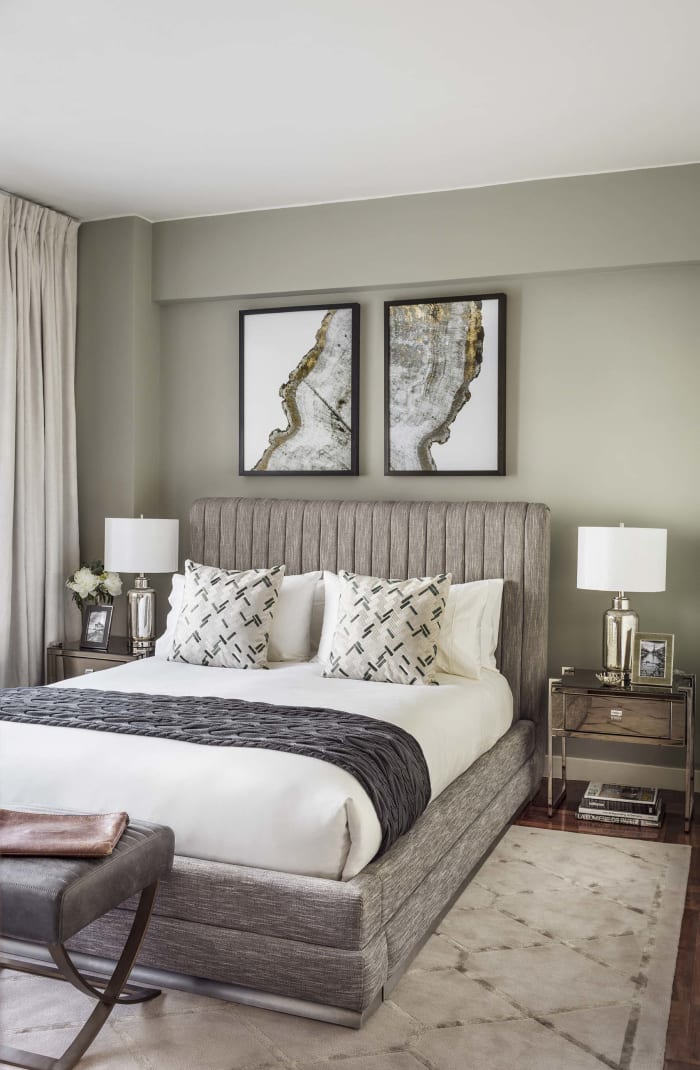 On the surface, a pillow sham may seem similar to a pillowcase, but the two are intended to serve different purposes. Therefore, there are some fundamental differences between the two.
You can recognise a pillowcase by its obvious opening on one side. This allows the pillow to be removed quickly and easily so that the pillowcase can be cleaned. A pillowcase serves a functional purpose of protecting your pillow from becoming soiled while you sleep. While there may be some minimal decorative elements to pillowcases, such as embroidery along the opening, they are typically rather plain in design. Because they are intended to come in direct contact with your bare skin, they are typically made of the same material as your sheets and are usually sold in more muted colours.
Pillow shams on the other hand are intended to serve decorative purposes. There are some telltale features that are usually present that set them apart from pillowcases. For example, you're more likely to find the opening of a pillow sham on the back rather than along the side to hide it from the casual viewer. Since decorative pillows are not intended to be used for sleeping purposes, the presumption is that pillow shams don't need to be removed as often as pillowcases. A pillow sham is more difficult to take on and off because a pillow sham is more for show than for functionality.
Another telltale decorative feature typically present on a pillow sham but not a pillowcase is a flange, which is a decorative band of fabric meant to flare out from the edge and make the pillow inside appear bigger and fluffier. While a pillowcase is intended to remain hidden from view under the covers and usually uses the same fabric as your bedsheets, a pillow sham is intended to sit on top of the covers where it will be seen, and is more likely to imitate the bedspread or duvet in colour and fabric, as well as including more decorative elements like embroidery, buttons, sequins, etc.
For people who take a simplified approach to decorating, there are pillow shams available that can double as pillow cases.
Pillow Shams Add Personality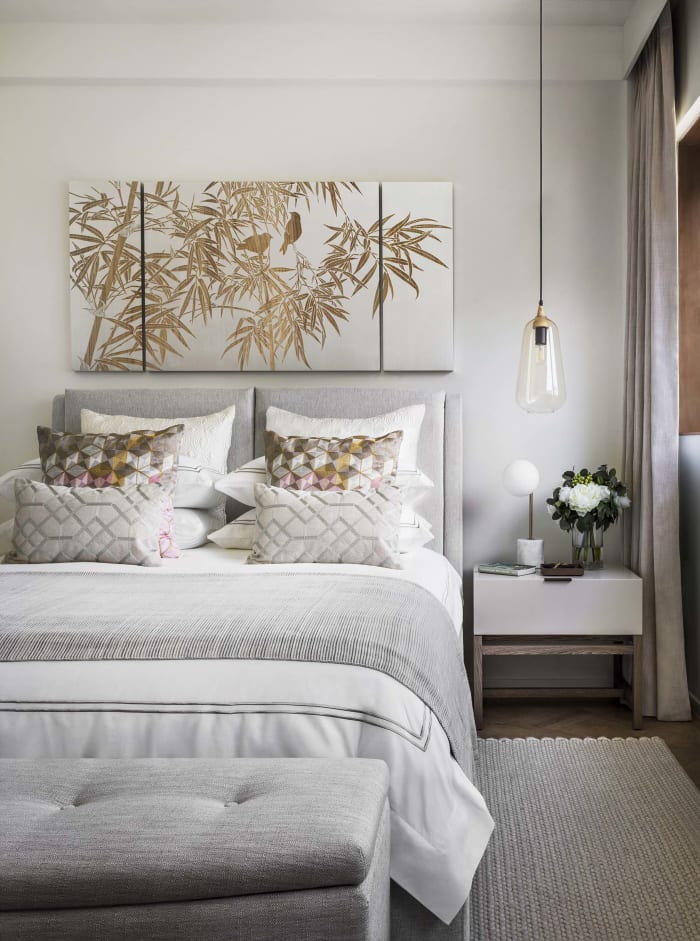 Pillow shams serve as an expression of your personality. You can find simple, elegant, pillow shams in monochromatic neutral shades, or you can find brightly coloured and patterned pillow shams, like the Victoria Pillowsham from New Zealand brand Patersonrose, to brighten up your room and give it some texture.
While it is certainly possible to sleep on a pillow sham, we don't recommend it. For one thing, some shams may be made of delicate fabric unable to stand up to the treatment that a regular pillow would take during the night. Conversely, the decorative elements often present on a pillow sham may not be comfortable to lie down on. While many people put decorative pillows to one side while the bed is in use, some also put them to practical use by leaning against them as they sit up in bed to read or watch TV.
Sizes of Pillow Shams and Decorative Pillows
The Sliver Park Avenue Euro Sham is 65x65cm with a embroidered double silver border
There are all types of pillow shams to fit all types of pillows. Some come in standard pillow sizes to transform your ordinary pillows into trendy design elements. Other shams are intended to fit pillows made specifically for decorative purposes that come in non-standard sizes.
One particular size of pillow sham you may see is called a Euro sham. A Euro sham is roughly in the shape of a square, a popular pillow size in Europe, and each side is typically about 65 cm in length, although some may be 71 or 72 cm.
Ways To Decorate With Pillow Shams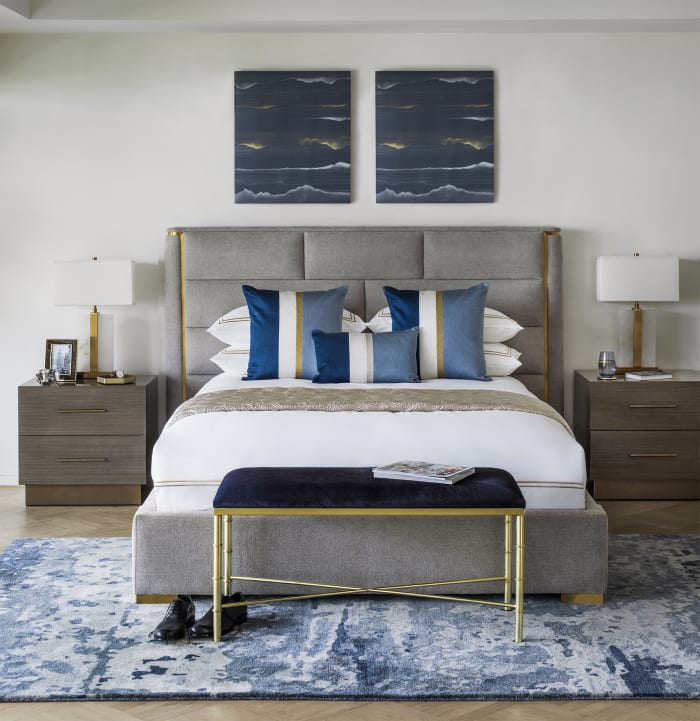 A bed that includes only pillows used for sleeping can appear stark and unfriendly, whereas a bed piled high with decorative pillows gives an inviting, whimsical, cloudlike appearance.
Take advantage of the many different colours, textures, and fabrics that pillow shams come in by mixing and matching them for a varied look.
An asymmetrical look gives the impression of creative spontaneity, while stacking smaller pillows on top of larger ones shows that you value order and organisation. One of the most popular techniques involves propping large pillows in back against the headboard and then placing smaller pillows in front of them for a layered look.
When it comes to decorating with shams, there are no real wrong ways to do it. You can use as few or as many as you would like and arrange them however you wish. Remember, however, that the more decorative pillows you have on your bed, the more you'll have to remove every night before you can go to sleep. Don't use any more decorative pillows than you are willing to deal with.
There are pillow shams available to suit your unique style, whether it be understated or extravagant. Take a look at the selection of our newest pillow shams now.